Beach Holidays In Thailand - Your Next Tropical Getaway
Thailand, known for its rich cultural heritage, vibrant cities, and mouth-watering cuisine, is also renowned for its breathtaking beaches. With a coastline stretching over 3,000 kilometers, this Southeast Asian gem boasts an array of pristine shores that cater to every type of beach lover. From secluded coves to lively party beaches, Thailand offers a beach holiday experience like no other.
Let's delve into the top beach holidays in Thailand, uncovering the natural beauty, luxurious accommodations, and thrilling activities that await you. So pack your sunscreen and get ready to embark on a tropical paradise adventure.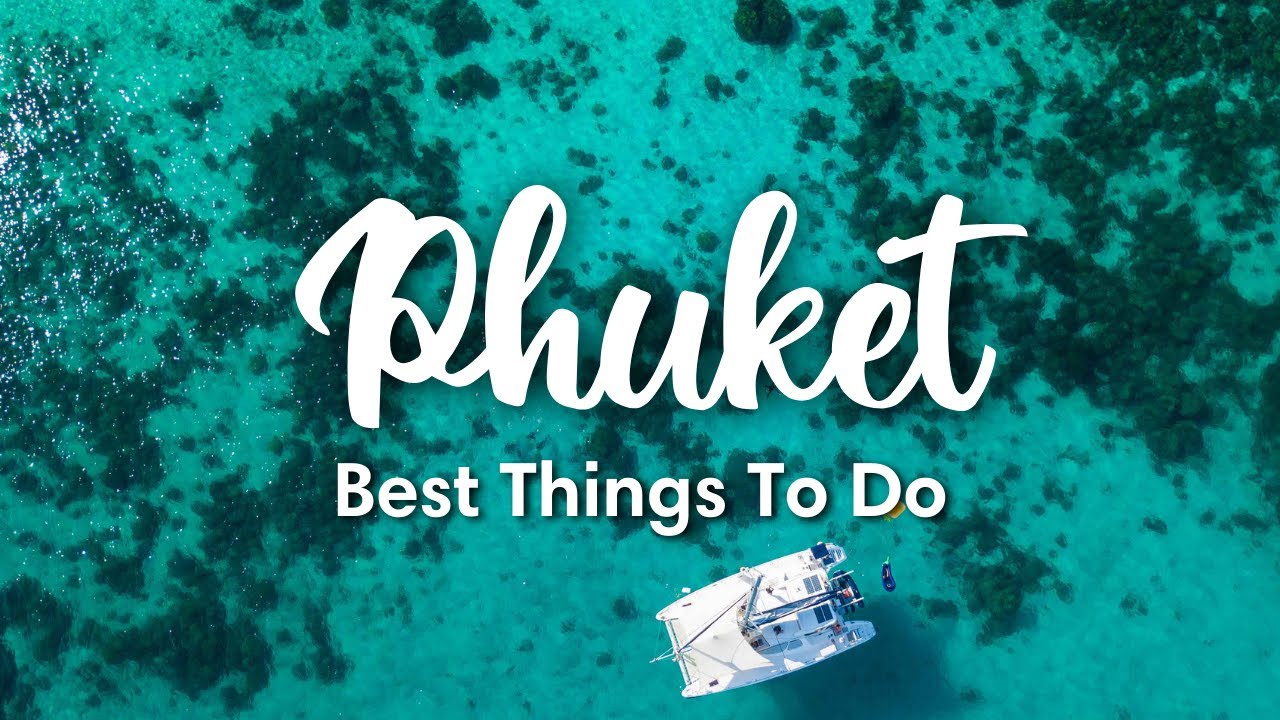 PHUKET, THAILAND (2023) | 10 BEST Things To Do In & Around Phuket
Location- Situated in the Andaman Sea, Phuket is Thailand's largest island, known for its stunning beaches, vibrant nightlife, and water sports opportunities.
Hotel Suggestion- Indulge in luxury at the Keemala Resort, a heavenly retreat nestled amidst lush rainforest. With its private pool villas and serene ambiance, Keemala offers an idyllic setting for a beach escape.
Phuket is a playground for beach lovers and thrill-seekers alike. Visit the iconic Patong Beach, where you can soak up the sun, take a refreshing swim, or indulge in water activities such as jet skiing or parasailing. For a taste of the vibrant nightlife, head to Bangla Road in Patong, where you'll find an array of bars, clubs, and entertainment venues.
If you're seeking a more peaceful experience, explore the quieter beaches of Kata, Karon, or Surin. Don't miss the opportunity to take a boat tour to the nearby Phi Phi Islands, renowned for their crystal-clear waters and breathtaking landscapes. You can go snorkeling, diving, or simply relax on the pristine beaches.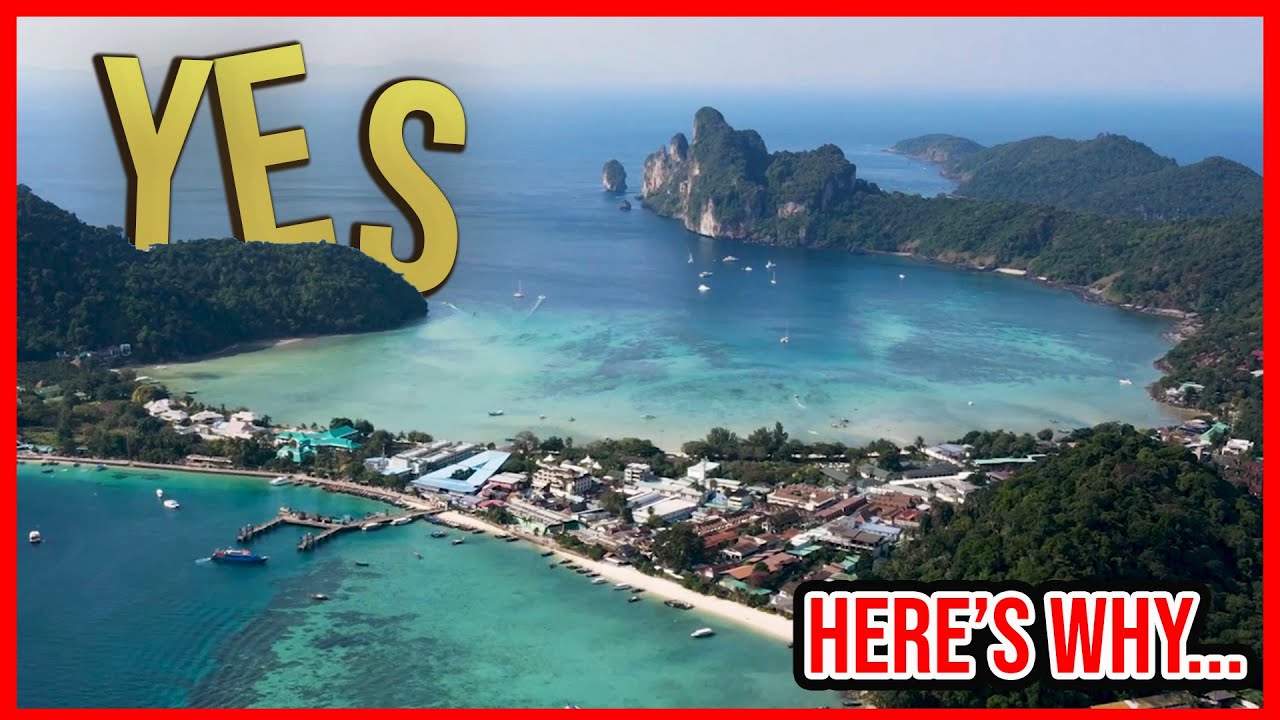 Is Koh Phi Phi worth it in 2023?
Location - Koh Phi Phi is an archipelago located in the Krabi Province. It consists of six islands, with Koh Phi Phi Don and Koh Phi Phi Leh being the most popular.
Hotel Suggestion- Stay at the Zeavola Resort, an enchanting boutique resort on Phi Phi Don Island. Immerse yourself in the island's natural beauty with luxurious accommodation and breathtaking ocean views.
Koh Phi Phi offers a tropical paradise experience like no other. Explore the world-famous Maya Bay, a stunning bay featured in the movie "The Beach." The bay boasts crystal-clear turquoise waters and towering limestone cliffs, creating a mesmerizing backdrop for relaxation and exploration. Embark on a snorkeling or diving excursion to witness the vibrant coral reefs and colorful marine life.
You can also take a boat tour around the islands to discover hidden coves and pristine beaches. For panoramic views of the archipelago, hike up to the Phi Phi Viewpoint and be rewarded with breathtaking vistas. Enjoy beachside dining and sample delicious Thai cuisine while soaking up the island's serene ambiance.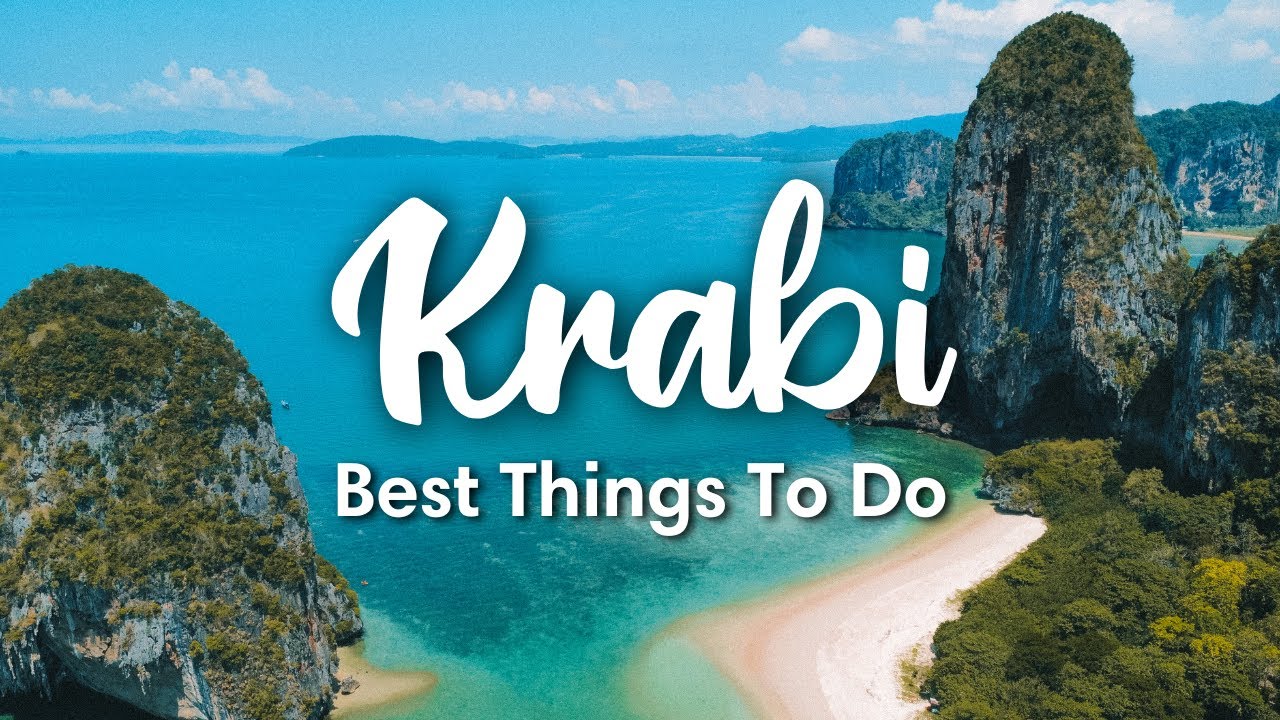 KRABI, THAILAND (2023) | 10 BEST Things To Do In Krabi (Ao Nang & Around)
Location- Nestled on the Andaman Sea, Krabi is a province characterized by dramatic limestone cliffs, emerald-green waters, and picturesque islands.
Hotel Suggestion- Experience luxury at its finest at Rayavadee Resort, located in the heart of Krabi's stunning Phranang Peninsula. Surrounded by lush tropical gardens and overlooking the Andaman Sea, Rayavadee offers unparalleled beauty and seclusion.
Krabi is a haven for nature lovers and adventurers seeking tranquility. Explore Railay Beach, a hidden gem accessible only by boat due to its dramatic cliffs. Here, you can enjoy rock climbing on the limestone formations, go kayaking through the mangrove forests, or simply relax on the pristine sands.
Take a long-tail boat tour to the breathtaking Phi Phi Islands, where you can witness the enchanting beauty of Maya Bay and explore the surrounding snorkeling spots. Don't miss the opportunity to visit the stunning Hong Islands, known for their crystal-clear waters and picturesque lagoons. Krabi is also home to numerous hot springs, waterfalls, and nature reserves, offering opportunities for hiking, jungle trekking, and wildlife spotting.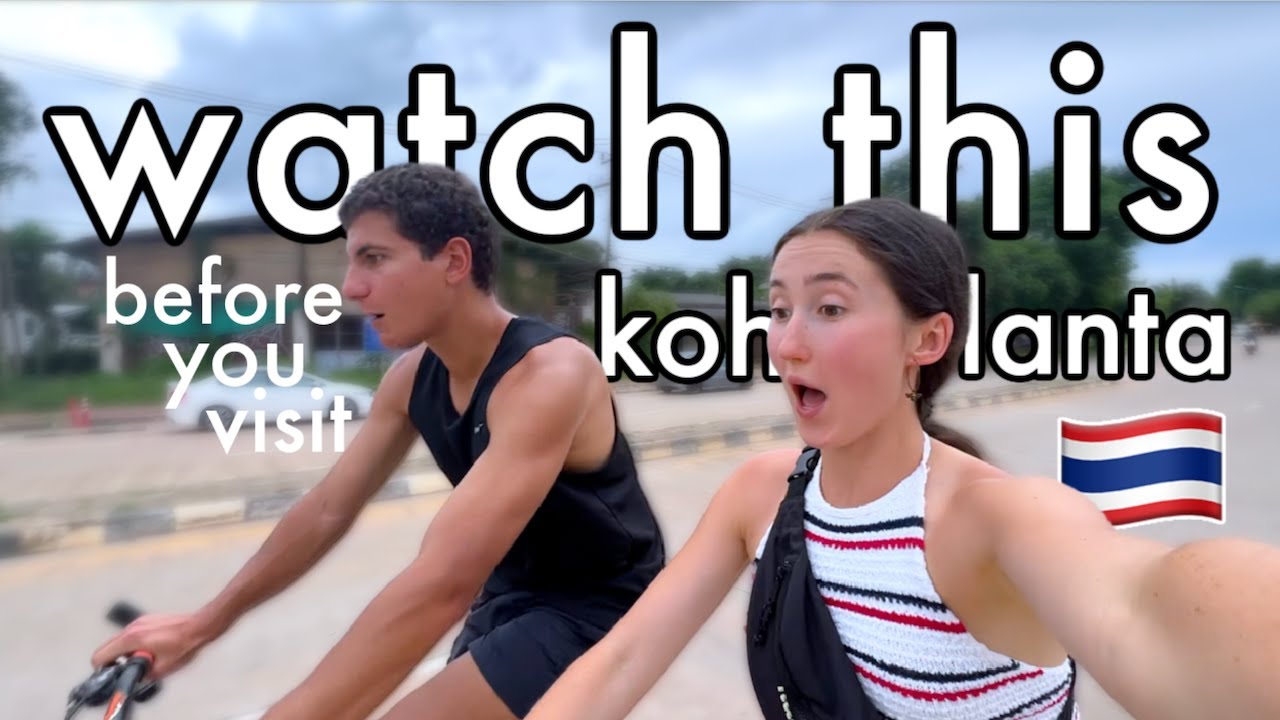 everything you need to know before you visit Koh Lanta, Thailand
Location- Situated in the Andaman Sea, Koh Lanta is an island district known for its long stretches of white sand beaches, crystal-clear waters, and lush rainforests.
Hotel Suggestion- Experience tranquility at Pimalai Resort & Spa, an award-winning retreat nestled in a tropical forest overlooking the Andaman Sea. The resort offers luxurious accommodations and world-class facilities, ensuring a serene beach holiday.
Koh Lanta is a hidden gem where you can truly escape the crowds and enjoy the serenity of nature. Visit Kantiang Bay, a pristine beach with powdery sand and azure waters, perfect for swimming, sunbathing, or simply unwinding. Explore the nearby Mu Koh Lanta National Park, home to diverse wildlife, lush rainforests, and stunning viewpoints.
Take a boat tour to the Four Islands, where you can swim in the breathtaking Emerald Cave or snorkel among vibrant coral reefs teeming with marine life. Koh Lanta is also known for its laid-back atmosphere and offers plenty of opportunities for yoga retreats, spa treatments, and beachfront dining.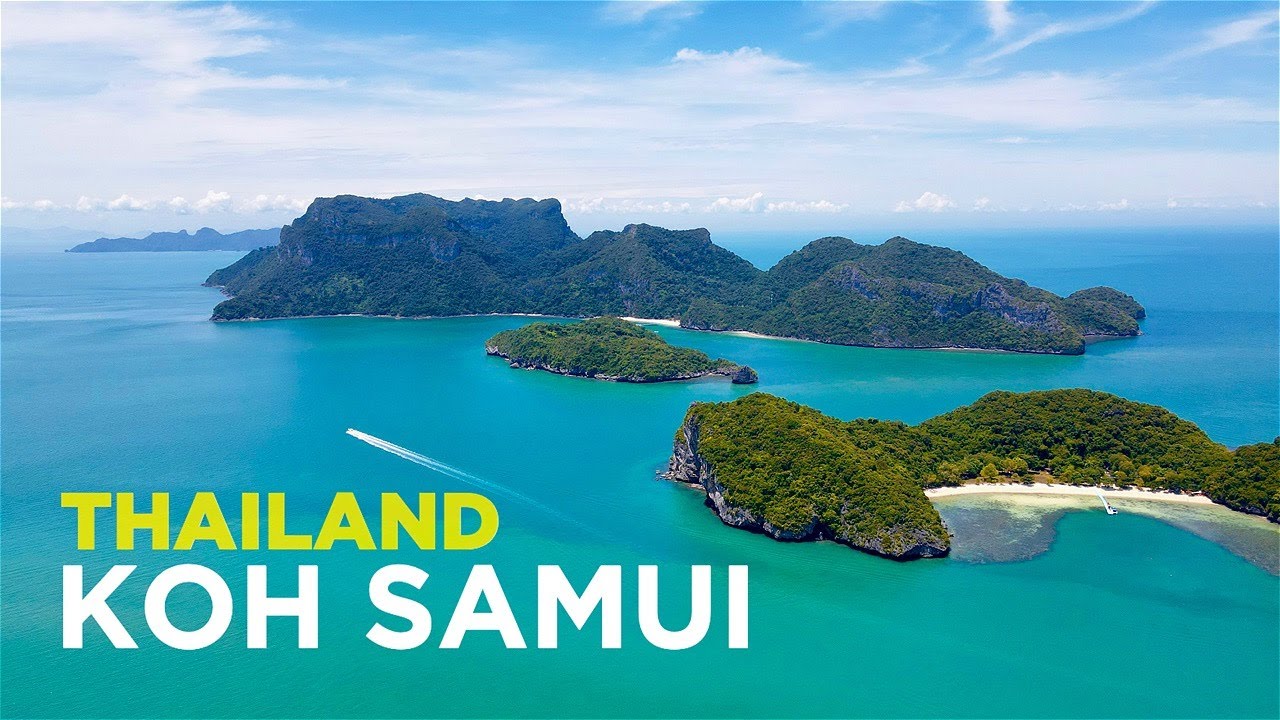 KOH SAMUI, THAILAND - Ultimate Travel Guide - ALL Beaches, JUNGLE & ANG THONG
Location - Located in the Gulf of Thailand, Koh Samui is the country's second-largest island, known for its palm-fringed beaches, luxury resorts, and lively nightlife.
Hotel Suggestion- Indulge in opulence at the Four Seasons Resort Koh Samui, offering luxurious villas with private plunge pools and stunning ocean views. Immerse yourself in the island's vibrancy while enjoying world-class amenities.
Koh Samui is a tropical paradise that seamlessly blends natural beauty with vibrant entertainment. Visit Chaweng Beach, one of Koh Samui's most popular and lively beaches, offering a wide range of water sports activities such as paddleboarding, jet skiing, and snorkeling. Enjoy a leisurely stroll along the Fisherman's Village in Bophut, where you can explore charming shops, indulge in local cuisine, and experience the island's vibrant nightlife.
Take a trip to Ang Thong Marine Park, a stunning archipelago of 42 islands, where you can go kayaking, snorkeling, and hiking. Koh Samui also offers cultural attractions such as the Big Buddha Temple and the Na Muang Waterfalls, providing a perfect balance of relaxation and exploration.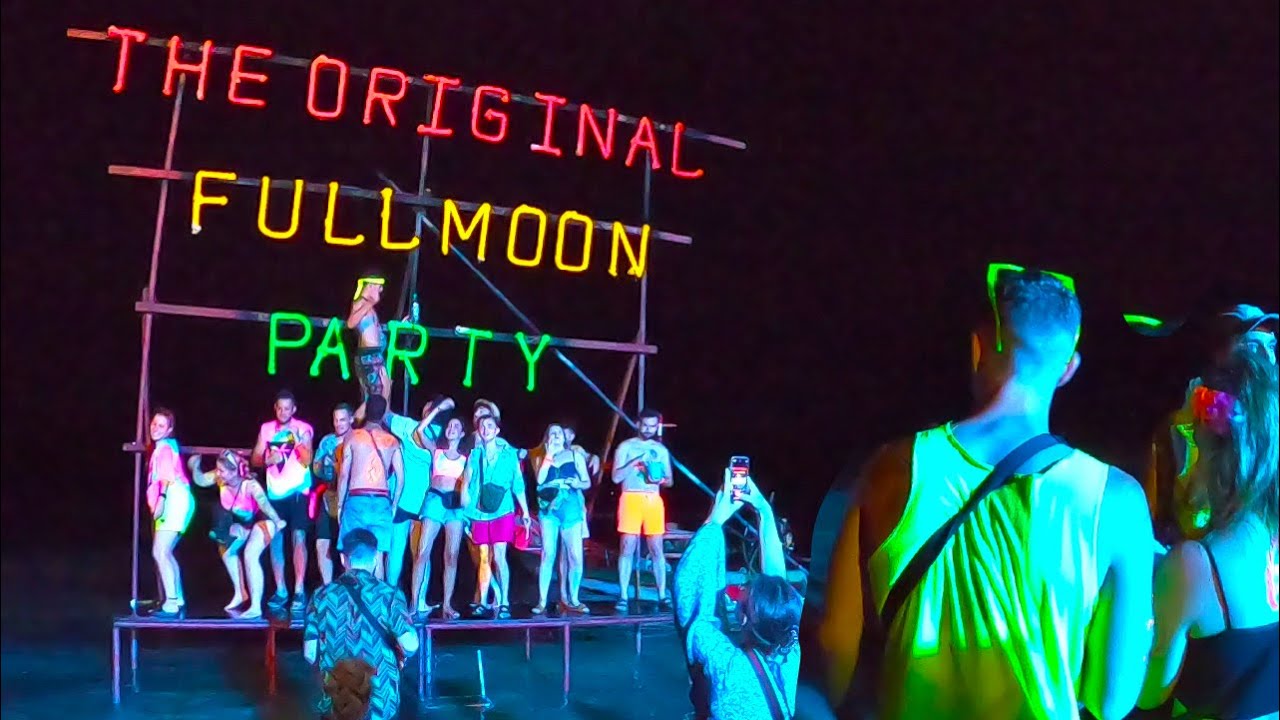 THAILAND FULL MOON PARTY / Koh Phangan
Location - Located in the Gulf of Thailand, Koh Phangan is famous for its Full Moon Parties, but it also offers secluded beaches and tranquil hideaways.
Hotel Suggestion - Experience luxury and seclusion at the Anantara Rasananda Koh Phangan Villas, nestled on the pristine sands of Thong Nai Pan Noi Beach. Enjoy spacious villas, a serene spa, and a beachfront infinity pool.
Koh Phangan offers a unique blend of tranquility and festivities. Discover Bottle Beach, a secluded paradise accessible only by boat or a challenging jungle trek. Enjoy snorkeling in the clear waters or hike to the nearby viewpoints for breathtaking panoramas. If you're visiting during the right lunar phase, don't miss the opportunity to participate in the vibrant Full Moon Party, where you can dance the night away under the moonlit sky.
For a more serene experience, explore the island's hidden beaches, practice yoga on the beach, or indulge in rejuvenating spa treatments. Koh Phangan's pristine beauty and diverse offerings cater to both party enthusiasts and those seeking relaxation.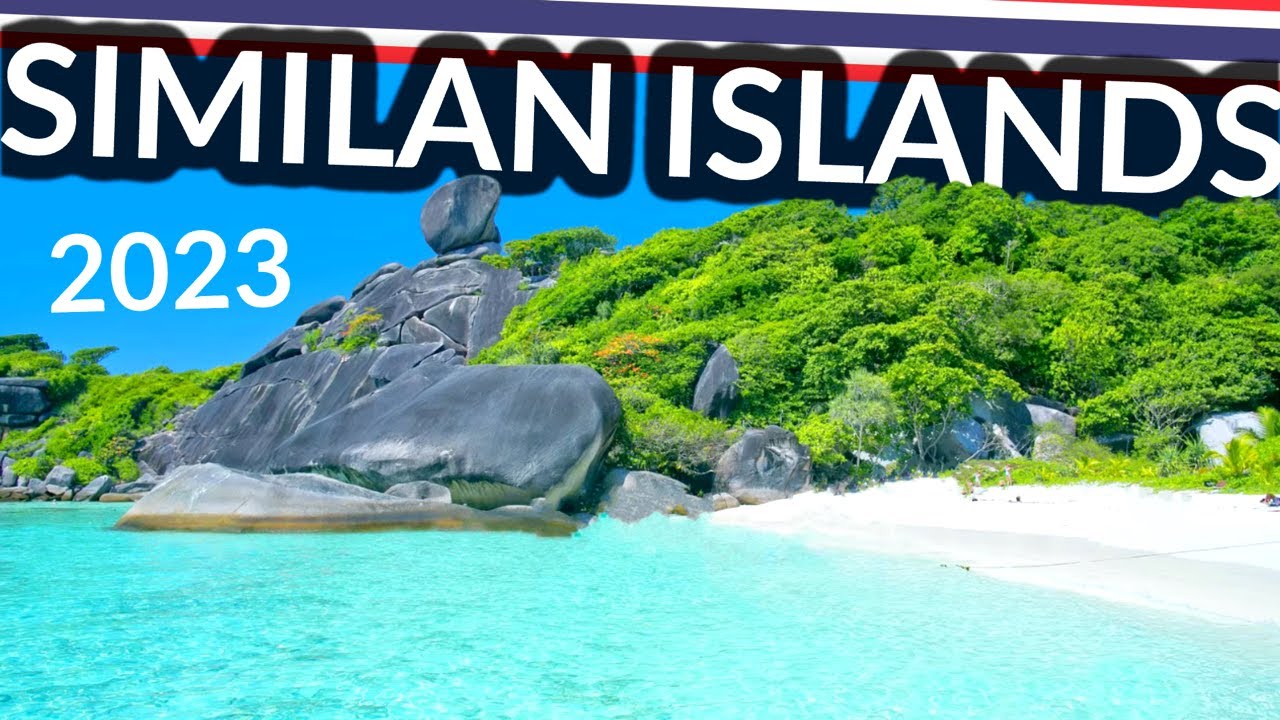 SIMILAN ISLANDS 2023 🤯 100% BETTER Than PHI PHI ISLAND! 1 Hour Drive From Phuket, MUST SEE Thailand
Location - The Similan Islands, located in the Andaman Sea, are an archipelago consisting of eleven islands known for their untouched beauty, diverse marine life, and world-class diving opportunities.
Hotel Suggestion- Stay at the Similan Seven Sea Club, a beachfront resort offering comfortable accommodation and easy access to the island's natural wonders.
The Similan Islands are a haven for diving enthusiasts and nature lovers. Embark on a liveaboard diving trip to explore the vibrant coral reefs, encounter manta rays, whale sharks, and other fascinating marine creatures. Relax on the pristine beaches of Similan Island and soak up the serene ambiance of this protected national park.
Hike to the island's viewpoints for breathtaking panoramas of the azure waters and lush landscapes. Snorkel or kayak along the coastline to discover hidden bays and remote beaches. The Similan Islands offer an untouched paradise for underwater exploration and tranquil relaxation.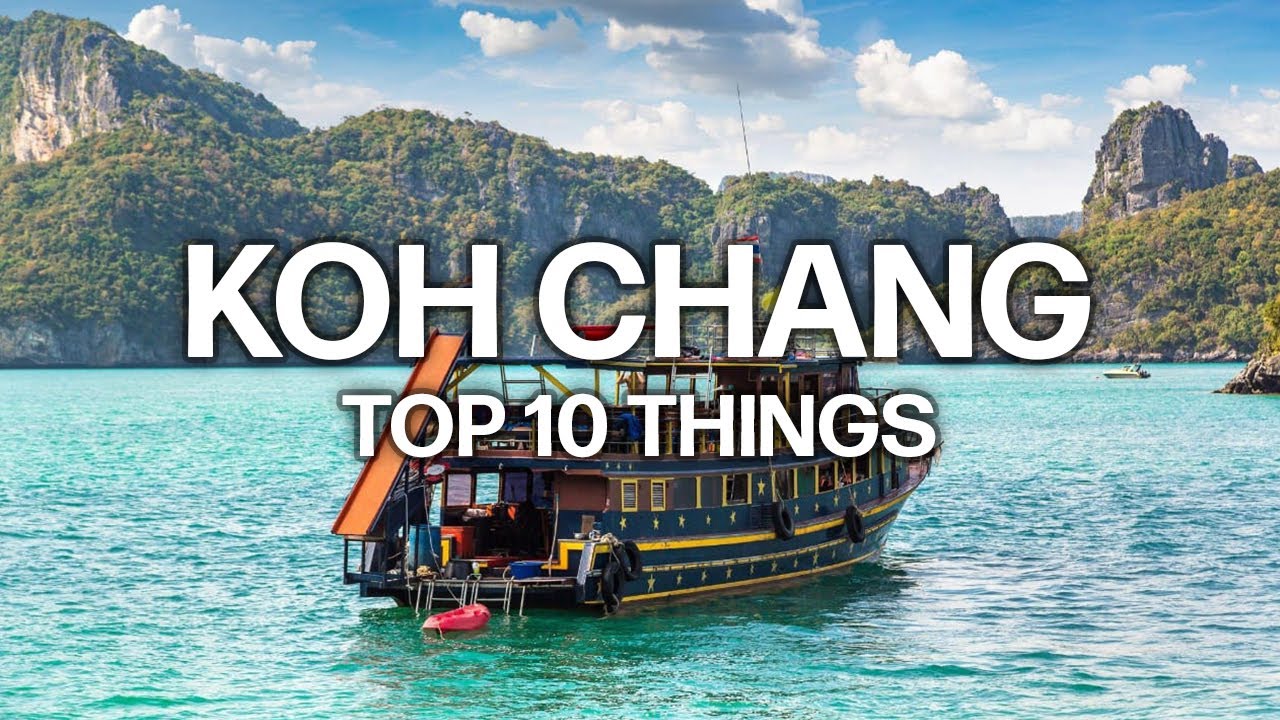 Top 10 Things To Do in Koh Chang
Location- Koh Chang, Thailand's second-largest island, is situated in the Gulf of Thailand near the Cambodian border. It is renowned for its dense rainforests, waterfalls, and untouched beaches.
Hotel Suggestion- Discover luxury at The Emerald Cove Koh Chang, a beachfront resort with stunning sea views, lush gardens, and a blissful spa.
Koh Chang invites you to immerse yourself in its untouched natural beauty. Explore White Sand Beach, Koh Chang's most popular beach, offering a wide range of water sports activities such as kayaking, paddleboarding, and snorkeling. Visit Klong Plu Waterfall, a majestic waterfall surrounded by dense rainforest, and take a refreshing dip in its crystal-clear pool.
Embark on a boat trip to the neighboring islands, such as Koh Rang or Koh Wai, for snorkeling or fishing adventures in pristine marine environments. Koh Chang's serene ambiance, lush rainforests, and idyllic beaches provide a perfect setting for nature enthusiasts and those seeking a peaceful retreat.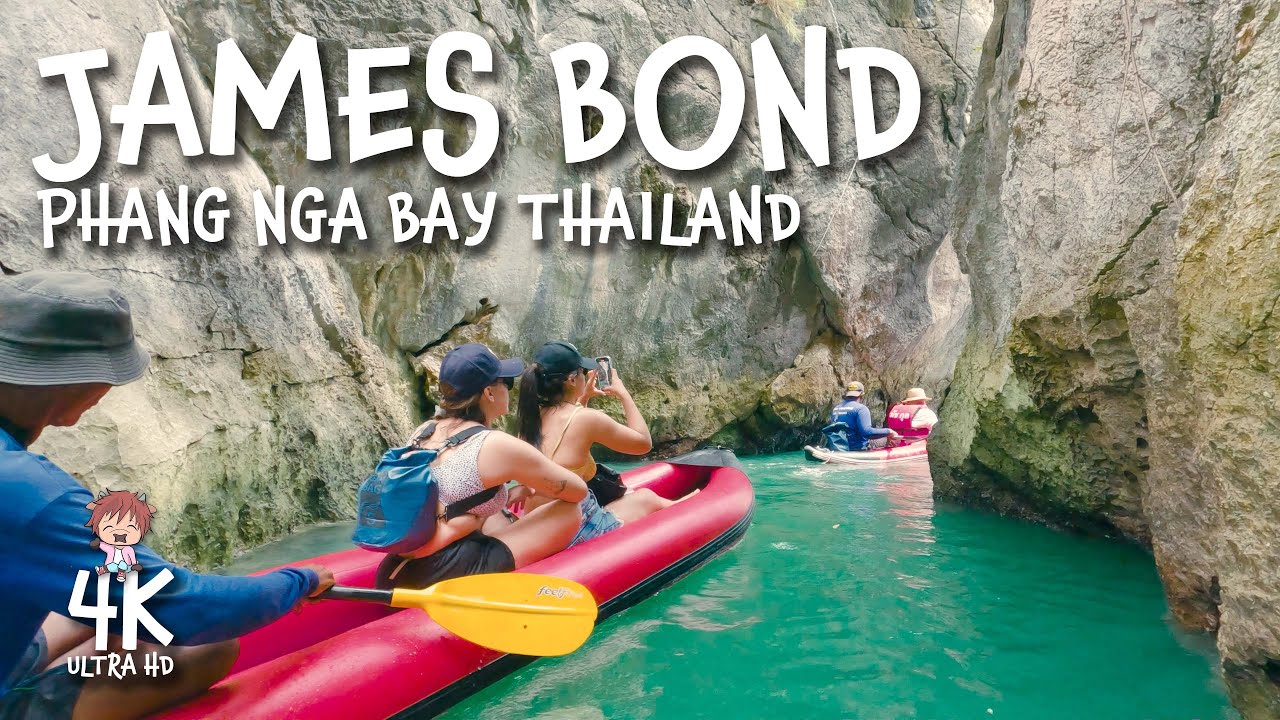 Stunning JAMES BOND Island and Phang Nga Bay, Thailand 4K Tour
Location- Phang Nga Bay is a stunning bay located between the island of Phuket and the mainland. It is famous for its limestone karsts, emerald-green waters, and hidden lagoons.
Hotel Suggestion- Stay at The Naka Island, a Luxury Collection Resort & Spa, Phuket, located on a private island in Phang Nga Bay. Enjoy luxurious villas with private pools, breathtaking views, and a serene spa.
Phang Nga Bay offers a scenic escape like no other. Explore James Bond Island, famous for its appearance in the movie "The Man with the Golden Gun." Discover hidden lagoons and caves by kayaking through the bay's intricate network of limestone karsts. Relax on the stunning beaches of Koh Yao Noi, a nearby island offering tranquility and natural beauty.
Take a boat tour to explore the bay's enchanting landscapes, stop at picturesque islands, and swim in the emerald-green waters. Phang Nga Bay's awe-inspiring scenery and hidden gems create a magical experience for nature lovers and adventure seekers.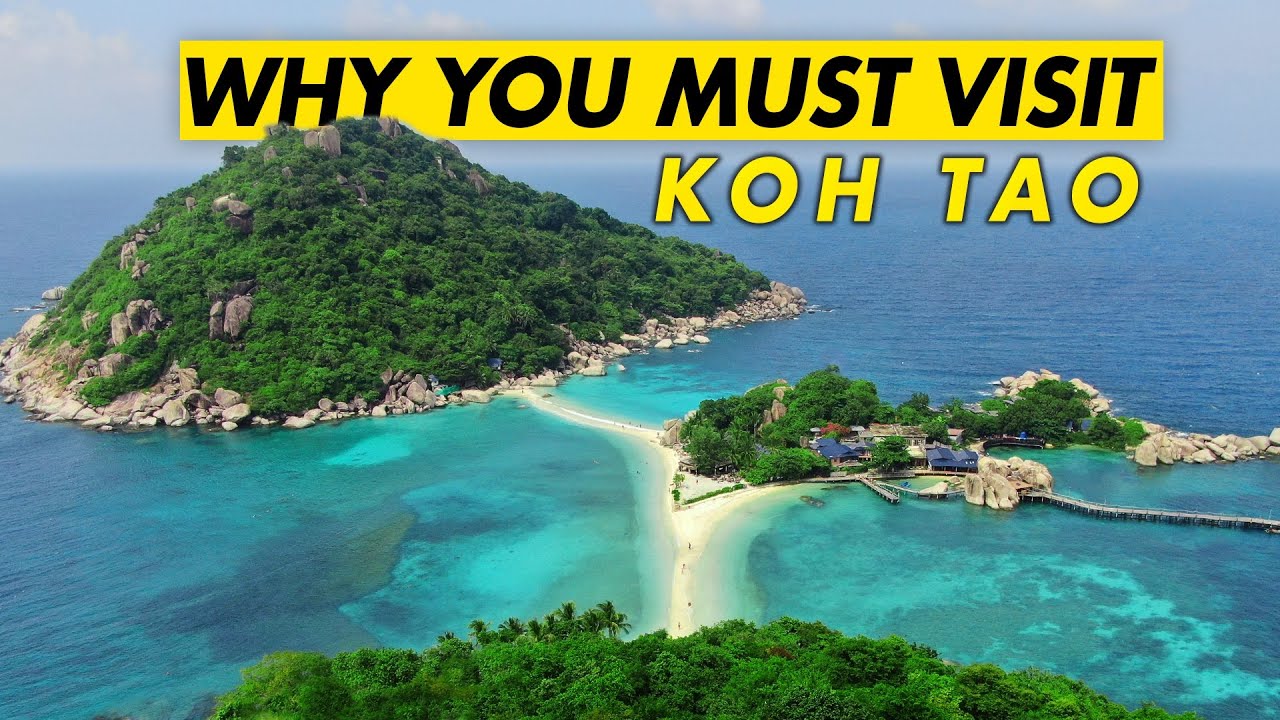 Why You MUST VISIT Koh Tao (Best of Thailand)
Location - Koh Tao, meaning "Turtle Island" in Thai, is located in the Gulf of Thailand. It is renowned for its vibrant coral reefs, abundant marine life, and excellent diving opportunities.
Hotel Suggestion- Experience a unique blend of luxury and eco-friendliness at The Haad Tien Beach Resort, situated on the secluded Shark Bay. Enjoy beachfront villas, a PADI-certified dive center, and a serene yoga studio.
Koh Tao is a diver's paradise with a vibrant underwater world waiting to be explored. Dive or snorkel in the crystal-clear waters to witness vibrant coral reefs teeming with marine life, including colorful tropical fish, turtles, and even whale sharks. The island offers a range of diving courses for beginners and advanced divers.
For a unique experience, visit Sail Rock, a renowned dive site known for its vertical chimney swim-through and abundant marine species. On land, hike to the island's viewpoints for breathtaking panoramas of the surrounding sea and lush landscapes. Koh Tao's natural beauty, serene beaches, and thriving diving scene make it a must-visit destination for underwater enthusiasts and nature lovers alike.
If you're planning a beach holiday in Thailand, it's essential to be well-prepared to ensure a memorable and enjoyable experience. From packing the right essentials to understanding the local customs, here are some key things to consider when preparing for beach holidays in Thailand.
Thailand boasts numerous beautiful beach destinations such as Phuket, Krabi, Koh Samui, and Phi Phi Islands. Research the different options to find the one that suits your preferences in terms of scenery, activities, and vibe. Each beach destination has its own unique charm, so choose wisely.
Thailand's tropical climate means you'll be spending most of your time in light, breathable clothing. Pack essentials like swimsuits, sarongs, lightweight shirts, shorts, and flip-flops. Don't forget to bring a wide-brimmed hat, sunglasses, and sunscreen to protect yourself from the strong sun.
Thailand is a predominantly Buddhist country with certain cultural norms and customs. While on the beach, it's important to respect local customs and traditions. Avoid public displays of affection, dress modestly when away from the beach, and remove your shoes when entering temples or any sacred places.
Thailand's tropical climate can be quite hot and humid, especially during the peak season. It's crucial to stay hydrated to avoid dehydration. Carry a refillable water bottle and drink plenty of fluids to keep yourself hydrated throughout your beach holiday.
Certain beach destinations in Thailand, especially those surrounded by lush vegetation, may have mosquitoes and other insects. Pack insect repellent and consider wearing long sleeves and pants during evenings to protect yourself from bites.
The sun in Thailand can be intense, so it's important to take precautions to avoid sunburn. Apply sunscreen with a high SPF regularly, seek shade during the peak hours of sunlight, and consider using a beach umbrella or wearing a sun hat for extra protection.
Thailand offers a variety of water activities such as snorkeling, diving, and kayaking. If you plan to engage in any water sports or activities, ensure your safety by following instructions from trained professionals, wearing appropriate safety gear, and being aware of your limits.
Thailand's beaches are home to diverse marine life and ecosystems. Help protect them by not littering, avoiding stepping on coral reefs, and refraining from purchasing souvenirs made from endangered species. Be a responsible traveler and leave only footprints behind.
By preparing for your beach holiday in Thailand with these tips in mind, you can fully enjoy the breathtaking beauty and unique experiences that the country's beaches have to offer. Have a wonderful time exploring the sun-soaked shores and creating unforgettable memories.
Sai Kaew is the most famous beach in Thailand, known for its vibrant atmosphere, beachside restaurants, nightly fire shows, and a wide range of resorts. It attracts a high number of visitors due to its picturesque beauty and lively entertainment options.
The best time to visit Thailand is during the cool and dry season, which typically extends from November to early April. During this time, temperatures range from 29°C to 34°C, making it pleasant for beach activities and exploration. However, it's important to note that Thailand's climate varies across regions, and the country can be visited throughout the year.
If you're looking for the most budget-friendly time to visit Thailand, consider traveling during the off-season months of April, May, September, and October. During these months, flight prices are typically cheaper due to lower demand, offering potential savings for travelers.
Thailand's beaches offer an unparalleled tropical getaway for every beach lover. Whether you seek vibrant nightlife, secluded tranquility, or thrilling water sports adventures, this Southeast Asian gem has it all. From the breathtaking shores of Phuket to the unspoiled beauty of Koh Tao, each beach destination in Thailand offers a unique experience.
So pack your bags, embrace the warm hospitality, and immerse yourself in the natural wonders that await you on Thailand's stunning coastline. Beach holidays in Thailand are truly a slice of paradise, waiting to be explored.
Share:
Twitter

|
Facebook

|
Linkedin