Best Places To Stay In Tulum - Exploring The Perfect Accommodations
When it comes to planning a trip to the beautiful coastal town of Tulum, Mexico, choosing the right place to stay is essential for an unforgettable experience.
Tulum offers a wide range of accommodations, from luxurious beachfront resorts to charming boutique hotels and eco-friendly jungle retreats.
Whether you're seeking relaxation, adventure, or a blend of both, the best places to stay in Tulumcater to every traveler's preferences.
Let's delve into the enchanting world of Tulum's accommodations and discover the perfect place to make your stay truly remarkable.
Tulum is a seaside town in the Mexican state of Quintana Roo, approximately two hours south of Cancun, on the stunning Riviera Maya coastline. Tulum's popularity as a vacation spot has skyrocketed in recent years. This influx of visitors has spurred significant development and the construction of new hotels in both Tulum Pueblo and Tulum Playa.
From Cancun, take Highway 307 south to Tulum, where you'll find a number of beachfront hotels. Then go west on Highway 15 before making a left into Avenida Coba. Turn left onto North Beach Road (Carretera Tulum Boca Paila) to reach hotels in the outlying areas of Tulum, or continue south along Beach Road South to reach the central hotel district.
From the Tulum ruins in the north to the entrance to the Sian Ka'an Biosphere Reserve in the south, the total length of the two-lane Tulum Beach Road is just around 6.5 miles (10.5km). The Beach Road serves as a distance marker for hotel locations.
Tulum is expanding rapidly—perhaps too rapidly, according to some—resulting in the development of a number of unique neighborhoods. It's difficult to grasp Tulum's scope and the precise locations of its features without first visiting the area.
The beach road, where the bulk of Tulum's pictures were taken, is located approximately 20 minutes outside of Tulum Town (also known as Tulum Pueblo).
That's where you'll find the hippie-boho cafés and the best restaurants in Tulum; it's the ritzy part of town that made it famous on Instagram. Given its name, you can probably guess that here is also where you'll find a beach.
Avenue Coba, Tulum's major thoroughfare, links the beach to the city's hub of activity. From the beach, you may go north along the coast by taking a right, or continue straight to reach Coba.
The more modern neighborhood of Aldea Zama is between Tulum city and the beach district, and it is home to several airbnbs and luxury hotels with a bohemian vibe.
In this article, we'll compare the perks of staying in Aldea Zama, Tulum town, and the beach road. The perfect place for you to stay in Tulum will ultimately depend on your vacation preferences.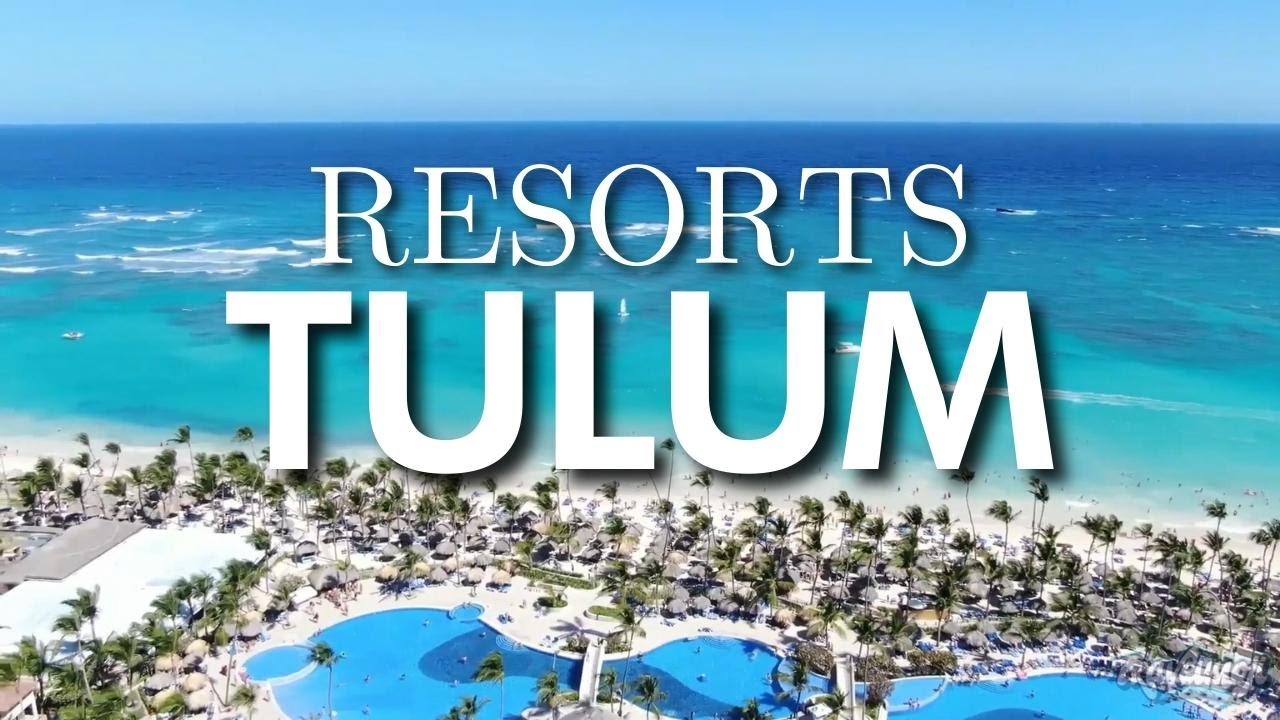 Top 10 All-Inclusive Resorts in Tulum
Remember to bring cash since many establishments (especially in the town) do not accept credit cards (at least in 2019).

The wettest months are September and October.

It is recommended to visit Tulum during the months of December and April. This is because of the significantly reduced humidity and precipitation levels.

Hotels in Tulum often offer steep discounts between May and the middle of December, the city's low season. It's the greatest time to visit Tulum if you're trying to save money on your trip. While there are still plenty of tourists in Tulum, you may be disappointed to learn that many of the city's most well-known eateries are closed.
There are a total of 38 guestrooms, 20 suites, 36 luxury tents, and 5 treehouses at Nômade Tulum Resort. Couples may enjoy some extra solitude and a breathtaking view of the Tulum sky and beach from the treehouse.
The hotel has a yoga shala and a gratitude tent where guests may meditate or have group healing sessions. Highlighting the area's rich Pre-Columbian past and the Mayans, the hotel also provides ceremonies, rituals, traditional food, and seasonal programming.
At Nomade Tulum Mexico, guests have access to a beautiful outdoor pool and lounge area with views of the Caribbean Sea, in addition to two dining options. Nômade Tulum's stylish treehouses are the perfect spot to unwind after a long day of sightseeing or work.
Hotel Bardo is the finest hotel in Tulum for adults, providing a peaceful retreat away from the madding crowds where couples can reconnect and focus on one other. There is a living area, bedroom, and bathroom with a semi-exterior shower in the hotel's loft-style villas.
The villas enjoy excellent privacy, with their own jungle gardens and plunge pools. Traditional temazcal, couple's massages, a lux yoga pavilion, and a sunset party are just some of the hotel's unique activities.
The healing center provides a wide range of services, with an emphasis on alternative medicine and self-aware health. The Kinky Room Bar has some of the greatest beverages in Tulum, while the Milum Restaurant has a varied cuisine.
The Hotel Bardo in Tulum is an adults-only retreat perfect for lovebirds in search of privacy and rejuvenation. Loft-style villas at the hotel come with their own jungle gardens and plunge pools, while the spa is dedicated to holistic health and wellbeing.
You may dine in at the Milum Restaurant or order room service to enjoy in the privacy of your villa. Luxury and seclusion in the heart of paradise can be found at Casa Malca Tulum, while the Kinky Room Bar is where you'll find some of the greatest beverages in Tulum.
There are 71 beachfront rooms, three dining options, a spa, an underground pool, an outdoor pool, and a beach club. Due to its convenient location on Tulum Beach Road, high quality facilities, delectable food, distinctive decor, and friendly staff, this hotel is often chosen for romantic couple's picture sessions.
The private beachfront bungalows at La Valise Tulum Resort exude character, convenience, and high-end amenities. Each of the 11 rooms is individually decorated and has a king-sized bed dressed in fine linens, a big bathroom, and a balcony or patio with sweeping views.
One of the hotel's suites, the Master Suite, has a movable bed that can be taken out onto a private terrace for a night of stargazing.
In addition to the aforementioned, La Valise provides free health activities, room service, beachside dining, and access to NÜ Tulum, which Travel+ Leisure Magazine named one of the top five restaurants in Riviera Maya. Like Radhoo Tulum, the hotel provides weeklong excursions.
The Beach Tulum Hotel is a boutique hotel on the beach that caters only to adults and has 20 rooms spread over three accommodation types. Each accommodation is luxurious and has a king-sized bed, an air conditioner, a plunge pool, or a hot tub, as well as breathtaking views.
The hotel has a luxurious beach club, the Caracol Bar, the Naj Naay Spa and Healing Center, and two restaurants (Fresco's and Ziggy's Restaurant).
The hotel also provides guests with a free a la carte breakfast, a list of activities, complimentary beverages upon arrival, complimentary bicycles, gratis daily yoga sessions, private beach access, and a private, allocated queen-sized beach bed.
There's something for every kind of relationship at The Beach Tulum. It is one of the top hotels in Tulum for couples due to its convenient location, breathtaking scenery, and wonderful cuisine.
When it comes to finding the best places to stay in Tulum on the beach, you're in for a treat. Tulum is renowned for its stunning coastline and pristine beaches, and there are several beachfront accommodations that offer a dreamy seaside experience.
From luxurious resorts to charming eco-friendly hotels, here are some of the top options for beachfront stays in Tulum:
Be Tulum

- This upscale boutique hotel offers direct beach access and luxurious accommodations with a bohemian-chic design. Enjoy breathtaking ocean views, indulge in beachside dining, and unwind at their exclusive beach club.

Azulik

- Nestled amidst the lush jungle and overlooking the Caribbean Sea, Azulik is an eco-friendly retreat known for its stunning treehouse-style villas. Embrace the natural surroundings, relax in private plunge pools, and take in the mesmerizing sunsets.

Nomade Tulum

- Combining bohemian charm with luxury, Nomade Tulum offers beachfront cabanas and tents, creating a unique and enchanting atmosphere. Immerse yourself in holistic experiences, yoga classes, and wellness offerings.

Mi Amor Tulum

- This romantic boutique hotel offers breathtaking views of the turquoise waters from its cliffside location. Enjoy stylish rooms, a stunning infinity pool, and direct access to a secluded beach.

Casa Malca

- A former mansion turned luxury hotel, Casa Malca offers an exclusive beachfront experience. Admire contemporary art, relax by the infinity pool, and soak up the sun on their private beach.
These are just a few of the best places to stay in Tulum on the beach, each offering its own unique charm and amenities. Whichever accommodation you choose, you can look forward to a memorable stay immersed in the natural beauty of Tulum's pristine beaches.
There are several budget-friendly options in Tulum, including guesthouses, hostels, and small hotels located away from the beach area. These offer comfortable and affordable stays while allowing you to explore the town and nearby attractions.
Tulum is renowned for its stunning beaches, and there are numerous hotels that provide direct beachfront access. Some popular options include Azulik, Be Tulum, and Mi Amor Tulum, offering guests the opportunity to relax and enjoy the pristine Caribbean coastline.
Tulum is known for its commitment to sustainability, and there are several eco-friendly accommodations in the area. Look for hotels such as Papaya Playa Project, Nomade Tulum, and Alaya Tulum, which focus on environmentally conscious practices while providing comfortable and unique stays.
Tulum offers family-friendly accommodations that cater to the needs of travelers with children. Places like Dreams Tulum Resort & Spa, La Zebra Tulum, and Ahau Tulum provide amenities and activities suitable for families, ensuring an enjoyable stay for all.
Tulum is renowned for its selection of boutique hotels that offer a distinctive and personalized experience. Hotels like Casa Malca, NEST Tulum, and Casa Ganesh provide a unique blend of design, comfort, and intimacy, creating a memorable stay for guests seeking something out of the ordinary.
Choosing the best places to stay in Tulum is a crucial decision that can greatly enhance your overall experience in this coastal paradise.
Whether you prefer a luxurious beachfront resort, an eco-friendly retreat, a budget-friendly option, a family-friendly accommodation, or a unique boutique hotel, Tulum has a wide range of choices to suit every traveler's needs and preferences.
From the breathtaking beaches to the lush jungle surroundings, Tulum offers a magical atmosphere that can be enhanced by selecting the perfect place to stay.
So, take the time to explore the diverse accommodations available and find the best match for your Tulum getaway, ensuring a truly unforgettable stay in this enchanting destination.
Share:
Twitter

|
Facebook

|
Linkedin