Necker Island - Make Your Dream Of A Beach Paradise Come True
NeckerIsland, located in the British Virgin Islands in the Caribbean, is a prime example of luxury living. You and your party can "rent" an entire island, complete with Balinese-style villas, private pools, and panoramic ocean views.
Richard Branson, the owner of Virgin Atlantic, bought an uninhabited island in the British Virgin Islands in the late 1970s. He began with a single, breezy Balinese villa and has since constructed numerous more.
Necker Island is the Caribbean's premier private retreat, and it's a favorite of royalty, rock stars, and Hollywood A-listers.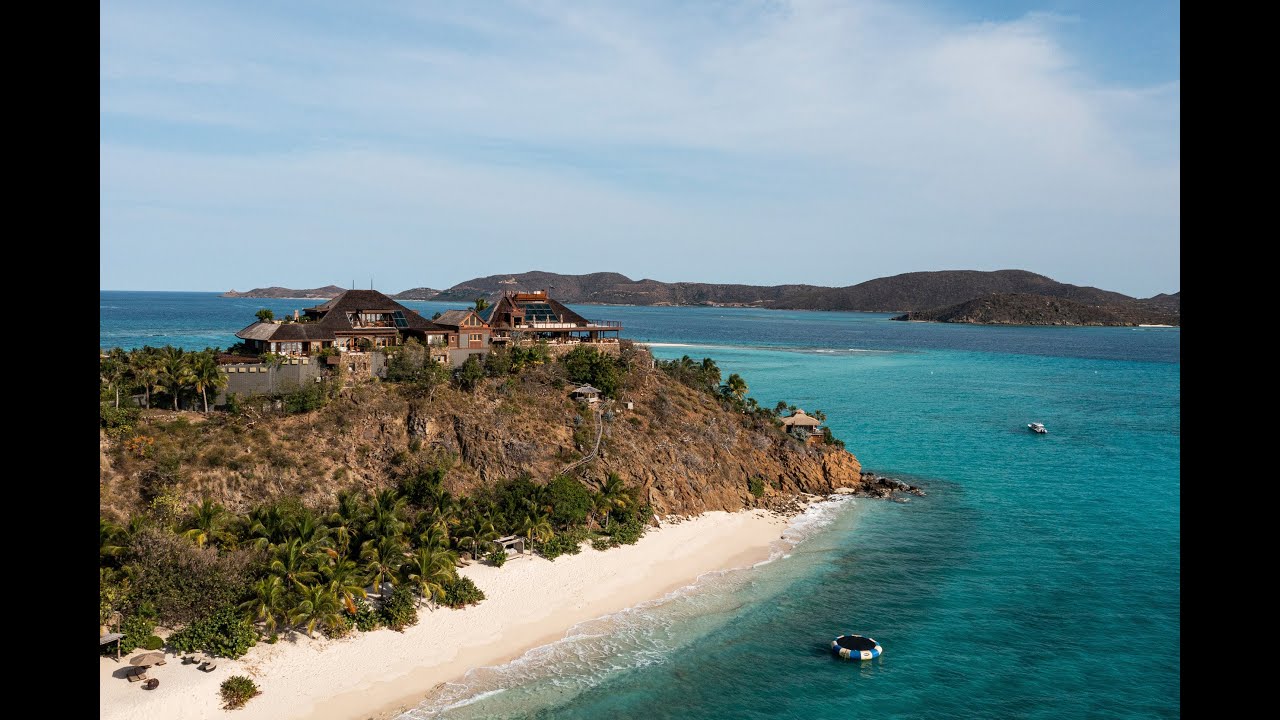 Necker Island | British Virgin Islands | Virgin Limited Edition
Necker Island is a private island paradise owned by Sir Richard Branson. It is in the British Virgin Islands, a beautiful and untouched part of the Caribbean. Necker is 74 acres big and is surrounded by coral reefs and beautiful white sand beaches.
The water around it is turquoise. The island can be rented out exclusively for groups of up to 34 people, or you can still enjoy the Necker experience by taking a room as a couple, single person, or family for a 7-night stay during certain weeks of the year, which they call "Celebration Weeks."
The Master Suite in the Great House has a sitting area, a Jacuzzi outside, and a Victorian bathtub on the private terrace. There are also 6 double rooms and one Junior Suite, all of which have a balcony (some of which are shared), king-size beds with mosquito nets, and bathrooms that are attached to the room (without baths).
The authentic cliff-side Balinese houses Bali Hi, Bali Cliff, and Bali Lo can now fit up to 28 guests. They are elegant villas with private pools, open-air lounges, and private dining areas.
Bali Lo, Bali Buah, and Bali Kukila are all in the middle of the island. They have a large private pool and great views of the whole island.
Swimming, tennis (courts with floodlights), windsurfing, kitesurfing, diving, fishing, sailing, hiking, waterskiing, kayaking, power boat trips, fitness, billiards, and darts. You can use the piano, library, board games for the family, and toys for children.
Activities can be set up, such as treasure hunts or beach Olympics. Tortola and Virgin Gorda both have places to ride horses. Discover Virgin Gorda and its famous "baths," which are unique rock formations. This is one of the few places in the world where you can bathe in the middle of a white sand beach.
Reefs and shipwrecks along the coast of Anegada make it a popular place to dive. And it is said that Treasure Island by Robert Louis Stevenson was first set on Norman Island. On Main Street in Road Town, there are lots of cute shops, and you can find a quiet bar almost anywhere to get a refreshing tropical drink.
La Perouse's November 4, 1786 discovery of Necker Island appears to have been unknown to the Hawaiians. This famous French navigator sailed within a third of a league of the island on his westward trip, noting its vertical cliffs, white with bird droppings, and violent sea, which made landing impossible. He named it Ile Necker after Louis XVI's finance minister, Jacques Necker.

John Turnbull, who visited the Hawaiian islands in the British ship Margaret from December 17, 1802 to January 21, 1803, mentions in his account of the voyage that two Hawaiians hired to dive for pearls on a reef in the leeward Hawaiian islands landed on Necker and were curious about a "range of stones, placed with some regularity in the manner of a wall, and about three feet high."

Lieutenant J. M. Brooke surveyed Necker in 1859. Captain N.C. Brooks of the Hawaiian barque Gambia crossed the island in 1859 but didn't land.

Captain Rooke landed a group on Necker Island on September 24, 1894. Two more photos are in London's British Museum.

In July 12, 1895, Captain King led another voyage to Necker on the Revenue Cutter Lehua to chart the island. First Bishop Museum director Dr. William T. Brigham made scientific observations but found no images.

Several other landings were made during the next quarter century, including two by George N. Wilcox, two by officers of the U.S. Revenue Cutter Thetis (1910 and 1913), H. L. Tucker and excursion party in 1917, and Gerrit P. Wilder, warden of the Hawaiian Islands Bird Reservation, on the lighthouse tender Kukui, October 6, 1919.

Necker Island is part of Honolulu, having been purchased from the Republic of Hawaii on July 7, 1898. It was leased for 21 years on June 2, 1904. It became part of the Hawaiian Islands Bird Reservation on February 3, 1909, and is maintained by the USDA and Hawaii.
It is one of the most expensive private islands in the world and is in the British Virgin Islands. Sir Richard Branson lives there. It can sleep up to 48 adults and six children, making it the best place for friends and family to spend time together.
Even though Branson owns all the land and buildings on the island, the beaches technically belong to the British Crown and are open to the public, even though few people have the money or time to go.
Beef Island in Tortola has the closest international airport (airport code EIS). All of our prices include boat rides to and from the Tortola airport on Beef Island. When you get to the island, you'll be greeted with a glass of champagne, also known as "Necker water."
Sir Richard Branson had a plan for Necker Island from the first time he went there in 1978. This plan led to the creation of one of the most exclusive island retreats in the world. Necker Island is committed to developing in a way that is good for the environment and the people who live there.
From white sand beaches to clear water, Necker Island has a never-ending list of things to do to keep you busy during your stay. The party starts when the sun goes down.
Share:
Twitter

|
Facebook

|
Linkedin