New Caledonia - South Pacific's Picturesque Palm-Lined Paradise
New Caledonia in Melanesia, is an oasis in the South Pacific, a land of contrast, splendor and excitement.
Whether you are wanting unspoiled, deserted beaches, the bright lights of nightclubs and casinos or cuisine unlike any you have experienced, you will find it all here.
Venture to the biggest lagoon in the world with its breathtaking coral and marine life. Or hit the shops for designer labels and chick fashions.
In harmony with the Melanesian culture, the French have brought European style and elegance to New Caledonia.
The "French ambience" is described by many as the taste of France in the South Pacific.
COPYRIGHT_JANE: Published on https://www.janeresture.com/new-caledonia/ by Jane Resture on 2022-10-19T04:44:41.455Z
This is the romance of New Caledonia.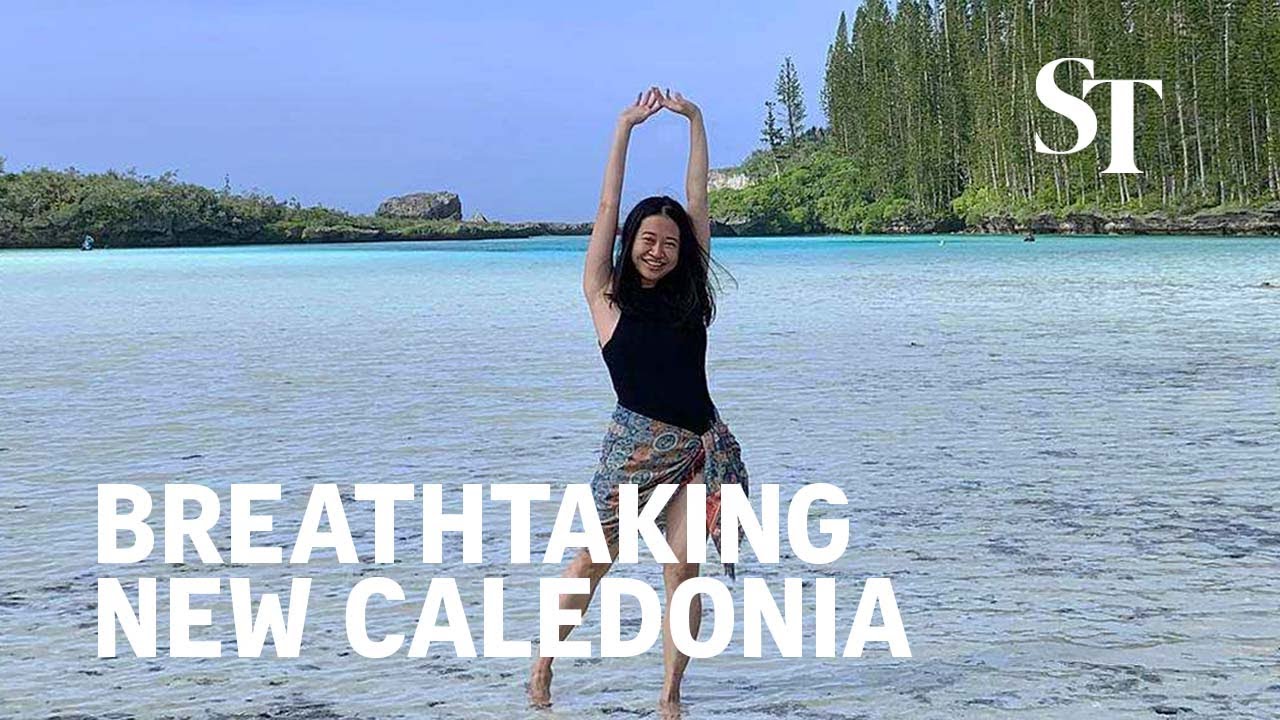 The natural wonders of New Caledonia
Noumea, New Caledonia's only city, is the place where most people start their New Caledonian experience.
From the delights of the colonial layout of downtown, to the local museum with its Melanesian theme, you will never tire of the sights in Noumea.
Tontouta International Airport is around 45 minutes north and Magenta Domestic Airport is just a few minutes' drive from the city center.
The mainland, known as "Grand Terre," is the main island of New Caledonia and offers a diverse range of scenery, sites and activities.
It covers a four-kilometer-long area from north to south and is 50 kilometers wide from west to east.
South and East of the mainland lie the Isle of Pines and the Loyalty Islands of Mare, Lifou, Ouvea and Tiga - little jewels of the Pacific which have all the features and charm of the South Seas.
Tranquil bays around a turquoise-blue expanse of sea blend with white sandy beaches to create a vision of paradise.
The population of 200,000 is predominantly Melanesian and European with small groups of Wallisians, Tahitians, Indonesians and Vietnamese.
The official language is French.
There are about 30 different Melanesian dialects, but English is widely spoken particularly in the tourist industry.
On September 4, 1774, Captain James Cook discovered New Caledonia, which he named because the mountains in the Balade area where he anchored reminded him of Scotland.
Eighteen years later French explorer Antoine Bruni d'Entrecasteaux, while searching for the missing navigator La Perouse, stopped at Balade and the Isle of Pines.
The Loyalty Islands were explored in 1827 by Jules Dumont d'Urville, who mapped the archipelago in 1840.
The first settlers here were English missionaries, and in 1843, the French missionaries settled at Balade where, on September 24, 1853, Admiral Auguste Febvrier-Despointes took official possession of New Caledonia by order of Napoleon III.
In 1862, Admiral Charles Guillain became governor and established penal settlement for convicts and political prisoners.
In 1957, New Caledonia became a French Overseas Territory.
The animal life consists of many species, some of which are not found elsewhere.
The Cagou (a flightless bird which is New Caledonia's symbol), the green pigeon, the Crested Parrot, and the flying fox are in abundance, as well as wild pigs and deer which inhabited the bush and mountains.
The coast is bordered by beaches of golden sands with occasional stretches of mangrove forests.
On the eastern coast are coconut palms and luxuriant vegetation, abundant flowers, numerous streams and waterfalls. On the west, the majestic gum tree savannah and the valleys are coated with dense forests.
There is a sharp contrast in vegetation in the south for it has an abundance of high pine trees known as Cook pines.
In the north, there are vast areas of flat plains. More than three thousand species of plants have been classified, many of which are endemic to the territory.
The eucalyptus is unique to the area and widespread throughout the main island, as are the kaoris, bougainvilleas and banyans.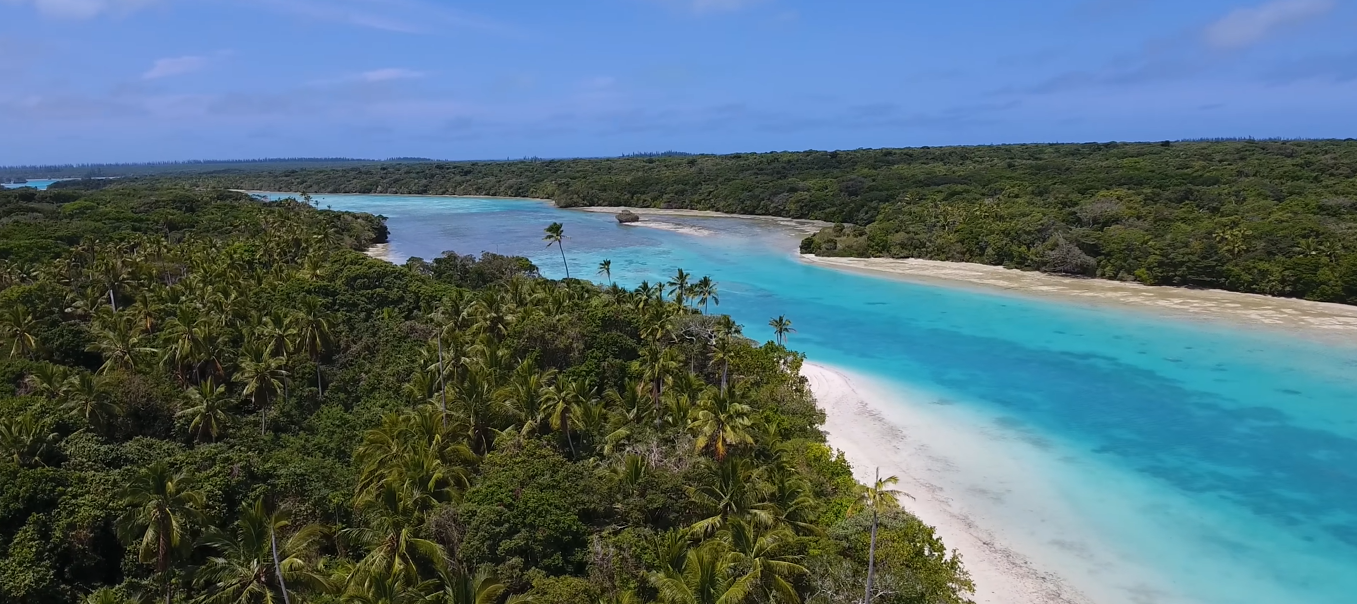 A long stretch of blue waters running between two islands covered with coconut trees and other foliage
At the center of the city in Noumea, an attractive gardened square surrounded by numerous streets, with interesting shops and one of the highlights of any visit to New Caledonia, is the new Tjibaou Cultural Center.
There is also the Parc Forestier (botanical and zoological garden) and the Noumea Aquarium, world renowned for its tropical fish, fluorescent corals and nautilus.
Discover the markets or lunch in an outdoor cafe.
The long beaches at Baie des Citrons or Anse Vata are great places to relax, and go windsurfing, snorkeling or diving.
Enjoy a game of golf at Tina International 18-hole golf course situated only ten minutes from Anse Vata.
A good way to start your holiday is to take a short city tour by coach or tourist train.
Just a short drive away and in total contrast, you can explore the unspoiled bushlands and other sights, such as the Provincial Park of the Blue River or the Mont Koghi rainforest.
New Caledonia has a good road network.
The mainland is divided by the central mountain range creating a tropical east and a dry west. A land of stockman and rodeos, where extensive stock farming is predominant.
This is a surprising province with its Farino market, treks in Mount Koghi, Bourail with its museum, Turtle Bay and the Pierced rock, the beach of Poe and excursions on horse-back organised at La Foa, Boulouparis, Kone and Koumac.
There are fascinating diving tours from Bourail, Nepoui and Malabou.
The east coast is the tropical adventure, with its abundance vegetation, wide rivers, spectacular waterfalls, coconut groves and coffee plantation.
Don't miss a visit to Hienghene from where some excursions are recommended such as diving tours, kayaking and horse riding.
A range of accommodation is available throughout the territory from serviced apartments and one to five-star hotels/resorts, to rural or tribal lodgings (called "gites") within a Melanesian village or property, where camping is permitted.
Air Caledonie offers frequent flights (air pass and packages) from Noumea-Magenta Domestic Airport to Isle of Pines, Loyalty Island, Kone, Koumac and Touho.
There is also a ferry service between Noumea, the Loyalty Islands and the Isle of Pines. Regular bus services operate throughout the mainland.
In Noumea, the bus station ensures a regular service around the entire town. Car rental, taxis and a little train are also available.
Cuisine plays a vital part in the way of life in New Caledonia.
Where else in the South Pacific but Noumea would you find more than 130 restaurants, serving a variety of styles including French provincial, Indonesian, Chinese, Italian, French traditional, Mexican, Japanese, plus seafood specialties? Only in New Caledonia.
For those who like sports, you can windsurf, scuba dive, snorkel, jet ski, sail and surf. Facilities include an Olympic pool, tennis court, squash clubs, bowling, golf courses and playing fields for rugby, cricket and soccer.
This is the land of the siesta, so shops open from 7:30 a.m. to 11:30 a.m. and 2:00 p.m. to 6:00 p.m.
Duty free stores offer a wide variety of luxury, designer goods from French fashion houses and there are imported French food, wines and a range of electrical goods, radios, cameras, watches, etc.
In the colorful markets are fish, vegetables, oranges and tropical fruits such as pawpaw (American papaw) and pineapple as well as handmade articles.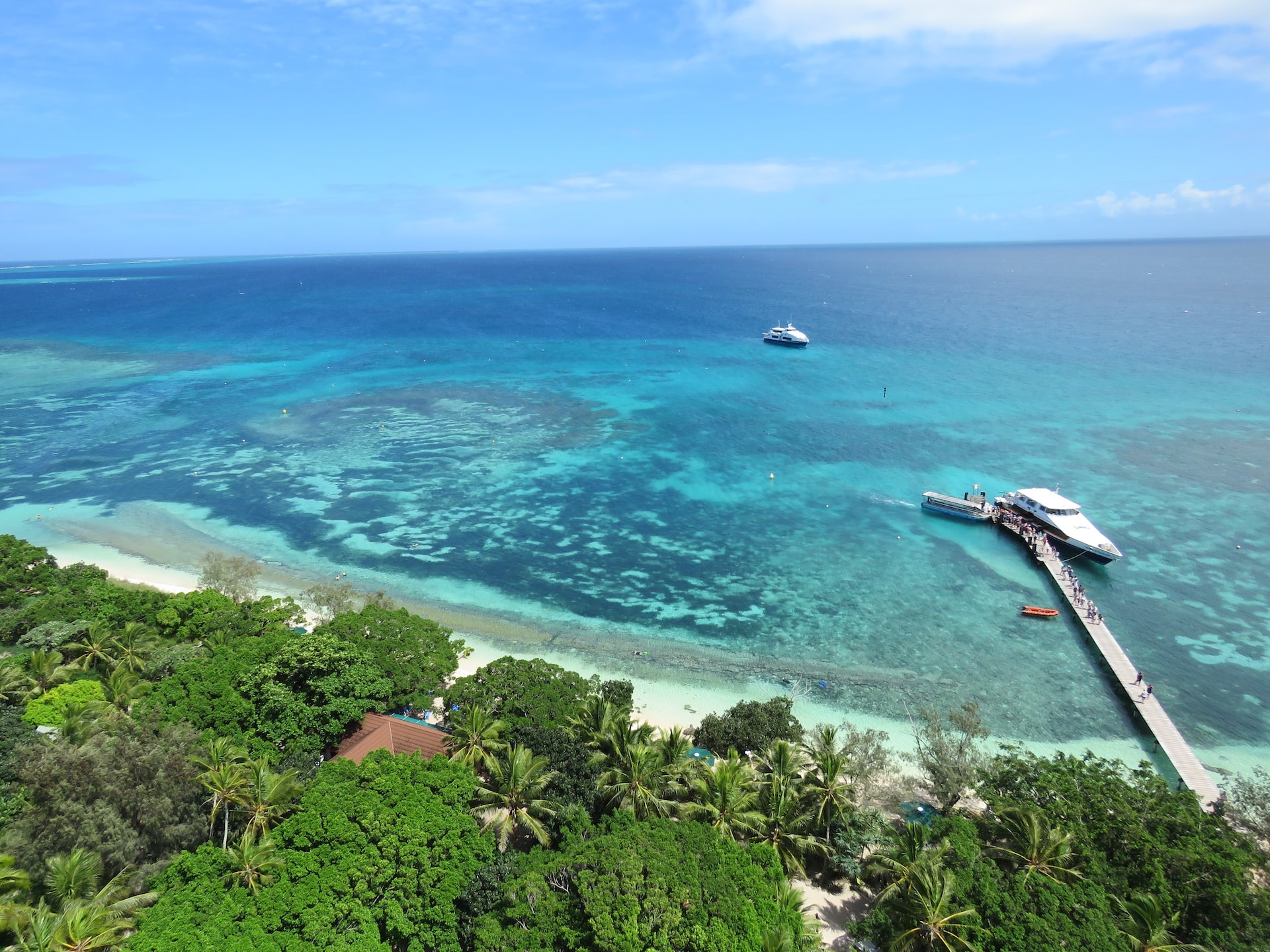 Aerial view of a front beach at New Caledonia, with boat disembarking tourists on a long wooden bridge
Other important things to know if you plan to visit New Caledonia.
Tropical, tempered by the surrounding ocean and the southeast trade winds. Wet season is December to March.
Light casual clothes, some topless bathing on beaches in Noumea.
French Pacific Franc (CFP). Most shops and hotels accept all major credit cards.
220 volts AC 50 cycles
Flights are available via Aircalin, Air France, AOM French Airlines, Continental Micronesia, Air Vanuatu, Qantas and Air New Zealand.
Domestic-Air Caledonie flies daily to the Isle of Pines and Loyalty Islands, as well as regular flights to the East Coast and West Coast.
GMT plus 11 hours. AEST plus one hour
An onward ticket is required, as is a visa for all visitors, except French citizens and people from EEC countries, USA, Canada, Japan, New Zealand and Australia.
New Caledonia and its people are waiting for you!
Share:
Twitter

|
Facebook

|
Linkedin