Photography Tours Of Southeast Asia - Capturing Essence
Southeast Asia has long been a favorite destination for travelers, drawing in visitors from all over the world. Its diverse landscapes, vibrant cultures, and stunning locations make it a paradise for photographers and artists. From ancient temples and bustling markets to pristine beaches and lush rainforests, Southeast Asia offers a plethora of unique and captivating scenes waiting to be captured through the lens.
Want to explore photography tours of Southeast Asia? We'll take you on a virtual journey through some of the most photogenic destinations in the region, and also provide you with valuable tips on traveling for photography.
Hanoi is the enchanting capital of Vietnam and a city steeped in history and culture. Its unique blend of French colonial architecture and traditional Vietnamese temples provides an excellent backdrop for photographers seeking diverse subject matter. Some must-visit spots for photographers in Hanoi include:
COPYRIGHT_JANE: Published on https://www.janeresture.com/photography-tours-of-southeast-asia/ by Jane Resture on 2023-08-11T16:31:04.504Z
Hoan Kiem Lake -

A serene oasis in the heart of the city, surrounded by temples, bridges, and lush greenery.

Hanoi Old Quarter -

A maze of narrow streets filled with street vendors, local shops, and bustling life.

Temple of Literature -

A well-preserved ancient temple complex that showcases traditional Vietnamese architecture.
In Prambanan, Indonesia, photographers will find a treasure trove of Hindu temple architecture. The intricate design and towering structures of the 9th-century Prambanan temples offer excellent opportunities for capturing ancient beauty. Key locations for photographers in Prambanan include:
Main Prambanan Temple -

The largest and most significant temple in the complex, featuring captivating bas-reliefs.

Sewu Temple -

A nearby temple complex that provides an alternative perspective of ancient architecture.
Chiang Mai, nestled in the northern part of Thailand, is a paradise for photographers seeking natural beauty and cultural experiences. With its tropical rainforests, majestic mountains, and ancient temples, there are endless photo opportunities. Some highlights for photographers in Chiang Mai are:
Doi Suthep Temple -

Located on a hilltop, this temple offers stunning panoramic views of the city and surrounding landscape.

Bua Thong Sticky Waterfalls -

A unique natural wonder where visitors can climb the limestone cascades.

Doi Inthanon National Park -

Home to Thailand's highest peak and picturesque landscapes.
Siem Reap is the gateway to the magnificent ruins of Angkor, a UNESCO World Heritage Site. The ancient temples, including the iconic Angkor Wat, are a dream come true for photographers. Beyond Angkor, other photography opportunities in Siem Reap include:
Tonle Sap Lake -

A vast freshwater lake offering a glimpse into the lives of local fishing communities.

Banteay Srei Temple -

Known for its intricate carvings and unique pink sandstone.
If you're seeking paradise on earth, look no further than El Nido in Palawan, Philippines. With its crystal-clear waters, limestone cliffs, and breathtaking island landscapes, El Nido provides endless inspiration for photographers. Some picturesque spots to explore include:
Big Lagoon and Small Lagoon -

Stunning lagoons with emerald waters surrounded by limestone formations.

Nacpan Beach -

A pristine, palm-fringed beach ideal for capturing sunsets and beachscapes.
Ho Chi Minh City, also known as Saigon, is a bustling metropolis in southern Vietnam that never fails to impress photographers. The city's vibrant street life, colonial landmarks, and unique architecture offer an abundance of photography opportunities. Some highlights for photographers in Ho Chi Minh City include:
Ben Thanh Market -

A bustling marketplace perfect for capturing candid street scenes and local life.

Notre-Dame Cathedral Basilica of Saigon -

A stunning example of French colonial architecture.
In the Mandalay region of Bagan, Myanmar, lies an ancient city adorned with over 2,000 Buddhist monuments and pagodas. The vast archaeological zone and its scenic surroundings offer endless possibilities for photographers. Some must-visit locations in Bagan include:
Shwesandaw Pagoda -

A popular spot for sunrise and sunset photography, offering panoramic views of the temple-studded landscape.

Ananda Temple -

A masterpiece of ancient architecture with exquisite carvings.
Bali is one of Southeast Asia's most popular destinations, renowned for its natural beauty and vibrant culture. From picturesque rice terraces to stunning volcanic landscapes, the island provides a plethora of photography options. Some top spots for photographers in Bali are:
Tegallalang Rice Terrace -

Iconic terraced rice fields that provide stunning green vistas.

Mount Batur -

An active volcano offering panoramic views and opportunities for sunrise photography.
Luang Prabang is a photographer's dream, located at the confluence of the Mekong and Nam Khan rivers. The town's serene beauty and well-preserved temples make it a captivating destination for photographers. Key locations to explore in Luang Prabang include:
Kuang Si Waterfall -

A multi-tiered waterfall with turquoise pools that make for beautiful long-exposure shots.

Mount Phousi -

A hill in the center of town, offering stunning panoramic views of Luang Prabang.
Batanes is a remote and enchanting cluster of islands in the northern Philippines, known for its rugged landscapes and simpler way of life. With its untouched corners and varied terrain, it's a haven for photographers seeking authentic and unique shots. Some of the best locations to capture in Batanes are:
Vayang Rolling Hills -

Rolling hills that look like they're straight out of a painting, providing stunning landscape shots.

Valugan Boulder Beach -

A beach covered with boulders, offering a dramatic and unique seascape.
Travel photography in Southeast Asia is an exhilarating blend of art and adventure. The region's rich cultural tapestry, diverse landscapes, and warm-hearted people make it an inspiring destination for photographers and artists alike.
Southeast Asian markets are a kaleidoscope of colors, sounds, and flavors, offering a captivating canvas for street photographers. Whether it's the bustling morning markets where locals buy their fresh produce or the vibrant night markets that come alive with lights and festivities, these marketplaces are a treasure trove for capturing the essence of the local culture. Wander through the maze of stalls, interact with friendly vendors, and capture candid shots of daily life as it unfolds.
The lakes of Southeast Asia offer a serene respite from the urban hustle and bustle. As centers of social activity, lakes provide photographers with captivating scenes of people engaging in various activities. From fishermen skillfully casting their nets to families enjoying picnics by the water's edge, lakes offer an insight into the region's tranquil lifestyle. Take advantage of the reflections in the still waters and the surrounding natural beauty to capture stunning compositions.
While famous tourist attractions are undoubtedly awe-inspiring, don't shy away from venturing into lesser-known areas. Off the beaten path lie hidden gems waiting to be discovered. Wander through quiet alleys, explore remote villages, and immerse yourself in the authentic charm of places less frequented by tourists. These unique locations offer an opportunity to capture untouched landscapes and rare moments of local life.
To truly understand the soul of a place, connect with the local photography community. Local photographers have an intimate knowledge of their homeland's best-kept secrets and cultural nuances. Engaging with them not only provides valuable insights into the region's hidden gems but also fosters meaningful connections. They can guide you to off-the-radar locations and help you communicate with locals, resulting in more authentic and heartfelt photographs.
Hotels provide comfort and convenience, but homestays offer a genuine experience of local life. By staying with local families, you gain firsthand insight into their customs, traditions, and daily routines. Homestays provide an opportunity to bond with your hosts, learn about their way of life, and share moments that go beyond the superficial. As a photographer, you'll have the chance to document not just the beauty of the surroundings but also the warmth of the local hospitality.
Solo travel opens up a world of possibilities for photographers. It allows you the freedom to create your own itinerary, explore at your own pace, and delve deeper into the heart of each destination. Traveling alone challenges you to step out of your comfort zone and engage with new experiences and people. With fewer distractions, you can fully immerse yourself in your surroundings, capturing moments that resonate with your own perspective.
Amidst the pursuit of capturing the perfect shot, it's essential not to forget the true essence of travel - the joy of experiencing new cultures, flavors, and landscapes. Take the time to savor the little moments, interact with the locals, and savor the unique stories that unfold during your journey. Don't be too focused on your camera that you miss out on immersing yourself in the local experiences. The most memorable photographs are often the ones that reflect the emotions and stories behind them.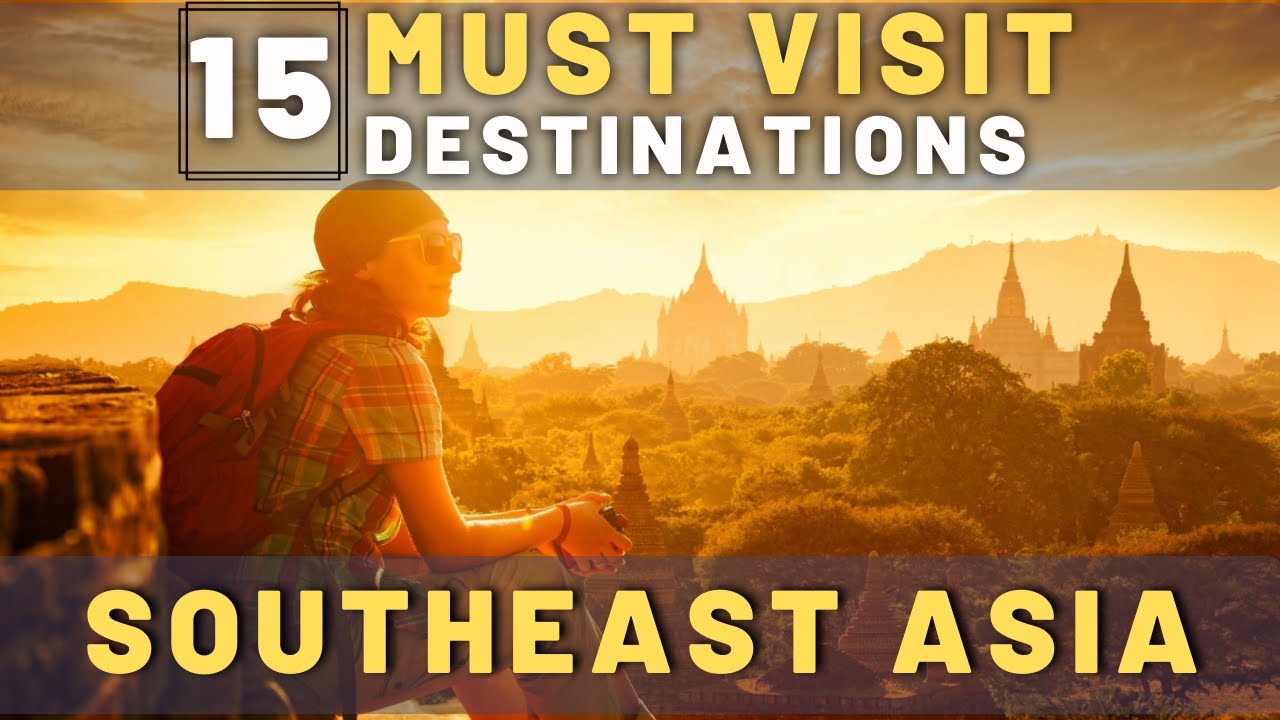 15 Must Visit Attractions In Southeast Asia | Southeast Asia Travel Guide
By following these tips and embracing the spirit of exploration, you'll not only return with a camera roll full of captivating images but also with a heart full of cherished memories that will last a lifetime. So pack your camera, embark on your Southeast Asian journey, and let the beauty of the region unfold before your lens.
Southeast Asia is primarily known for its stunning temples, welcoming people, delicious food, and affordability. Countries like Thailand, The Philippines, Vietnam, and Cambodia are prime targets for tourists looking to experience unique travel experiences in the region.
Travel photography is a combination of different genres, including landscape, street, portrait, environmental portrait, and architecture photography. You can capture images of the places you visit, portraits of the people you meet, or architecture photos of the buildings you encounter.
Southeast Asian Art, which includes the lands of Thailand, Laos, Vietnam, Cambodia, Myanmar (formerly Burma), Indonesia, and Singapore, showcases the art of Indochina and the East Indies with stunning paintings, sculptures, and artistic creations.
Travel photography is not only about discovering beautiful destinations; it also serves as a passport to meeting new people, experiencing other cultures, and discovering common ground as well as differences. It plays a crucial role in promoting tourism and showcasing the unique attractions of different places.
Southeast Asia is one of the world's most popular tourist destinations due to its tropical climate, warm weather throughout the year, rich cultural heritage, gorgeous beaches, delectable cuisine, and last but not least, affordable prices. These factors make it an ideal choice for travelers seeking diverse and memorable experiences.
In conclusion, photography tours of Southeast Asia offer a breathtaking and enriching experience for both avid photographers and adventurous travelers. This diverse region is a true paradise for capturing stunning landscapes, vibrant cultures, and ancient architectural wonders.
From the enchanting city of Hanoi with its French colonial charm to the magnificent ruins of Angkor in Siem Reap, Cambodia, every destination in Southeast Asia provides a plethora of unique and captivating scenes waiting to be captured through the lens.
Share:
Twitter

|
Facebook

|
Linkedin