Scuba Diving In The Red Sea - A Must-Experience For Adventure Enthusiasts
Are you an adventure enthusiast seeking an unforgettable experience? Look no further than scuba diving in the Red Sea.
The Red Sea, located between Asia and Africa, is a diver's paradise, offering stunning underwater landscapes, diverse marine life, and year-round warm water temperatures. Let's explore the wonders of scuba diving in the Red Sea, from the best dive sites to the unique marine creatures you can encounter.
The Red Sea is home to some of the world's best dive sites, each offering a unique experience. Here are some of the top dive sites you shouldn't miss:
Ras Mohammed National Park is located at the southern tip of the Sinai Peninsula, where the Gulf of Suez and the Gulf of Aqaba meet. The park covers an area of over 480 square kilometers, both on land and in the surrounding waters, and is considered one of the best dive sites in the Red Sea.
The marine life at Ras Mohammed National Park is incredibly diverse, with over 1,000 species of fish and over 200 species of coral. Schools of barracuda and trevally can often be seen patrolling the reefs, while turtles, moray eels, and giant groupers can be found hiding in crevices.
Dolphins and even sharks, such as whitetip and blacktip reef sharks, are also frequently spotted in the park's waters.
In addition to its marine life, Ras Mohammed National Park is also home to stunning underwater landscapes. The park boasts a variety of dive sites, including coral gardens, drop-offs, and even a wreck. The Yolanda Reef and Shark Reef, two of the park's most popular dive sites, are known for their incredible coral formations and schools of fish.
Diving at Ras Mohammed National Park is suitable for all levels of divers, with shallow reefs and deeper drop-offs available to explore. The park is also popular with snorkelers, who can experience the park's beauty from the surface.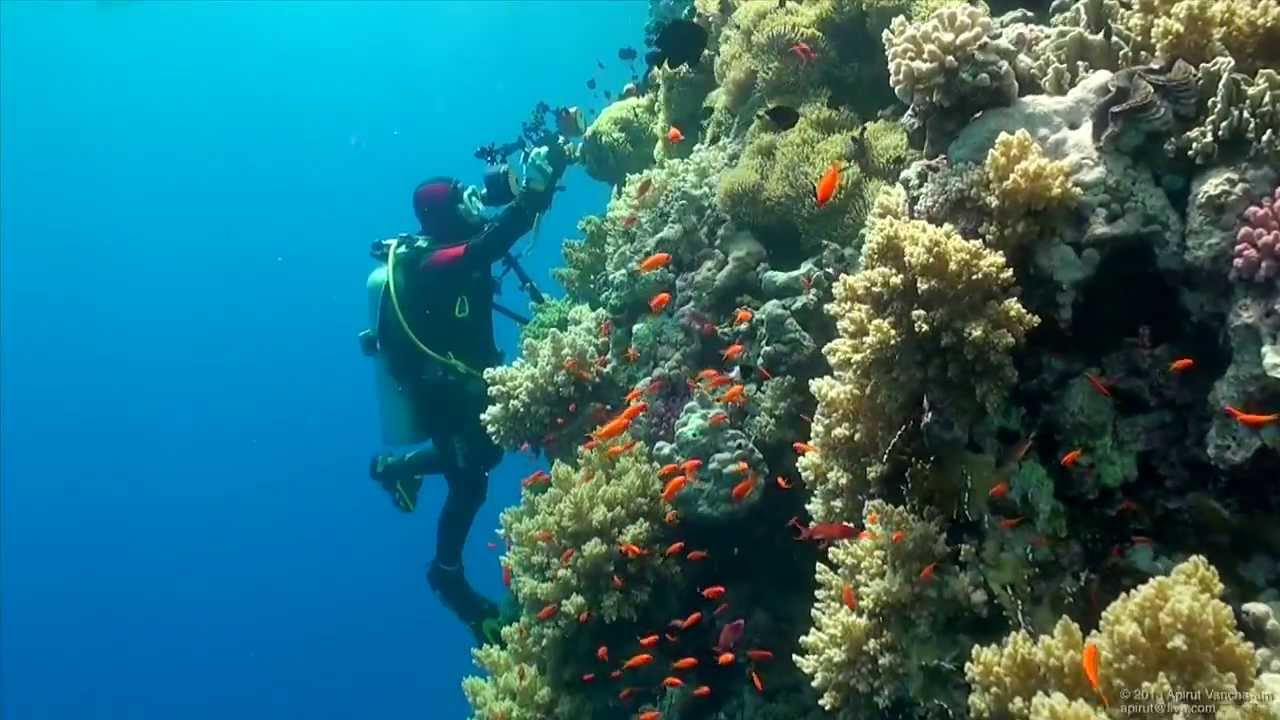 SCUBA Diving Egypt Red Sea - Underwater Video HD
The SS Thistlegorm was a British cargo ship that was sunk by German bombers during World War II in 1941. The ship was carrying a variety of supplies, including tanks, trucks, and ammunition, destined for Allied troops in North Africa.
The wreck was discovered by Jacques Cousteau in the 1950s and has since become one of the most popular dive sites in the Red Sea.
Diving at the SS Thistlegorm offers a unique opportunity to explore a piece of history and see the remnants of the ship's cargo. The wreck is over 100 meters long and lies at a depth of around 30 meters, with many of the items still intact and visible.
Divers can see trucks, motorcycles, and even railway cars that were part of the cargo, as well as personal items such as boots and helmets.
Aside from the historical significance of the site, the SS Thistlegorm is also home to an abundance of marine life. Giant moray eels can often be seen hiding in the wreckage, while schools of barracuda trevally swim around the perimeter.
Turtles, lionfish, and various species of colorful reef fish can also be spotted. Due to the depth of the wreck, diving at the SS Thistlegorm is recommended for advanced divers with wreck diving experience.
Located in the southern Red Sea near Marsa Alam, Elphinstone Reef is a popular dive site that offers stunning underwater landscapes and encounters with a variety of marine life.
The reef is known for its vertical walls, pinnacles, and colorful corals, as well as its resident population of reef sharks, including hammerhead and grey reef sharks.
Divers can also spot schools of barracudas, tuna, and jacks, as well as the occasional manta ray or whale shark. However, due to its depth and strong currents, Elphinstone Reef is best suited for experienced divers.
The Brothers Islands are actually two small islands located in the middle of the Red Sea, about 60 km offshore from El Quseir. The larger island is called Big Brother, while the smaller island is called Little Brother. Both islands are renowned for their exceptional dive sites, with a variety of underwater landscapes and marine life to discover.
One of the main attractions of the Brothers Islands is the abundance of large pelagic species that can be found here. Schools of hammerhead sharks and barracuda are common sightings, as well as other shark species such as silvertips, grey reef sharks, and whitetips.
Other marine life includes various species of rays, turtles, and colorful reef fish such as anthias and butterflyfish. The coral formations at the Brothers Islands are also impressive, with vibrant colors and intricate structures providing homes for a wide range of creatures.
Diving at the Brothers Islands is typically only recommended for experienced divers due to the strong currents and often choppy conditions. However, for those with the skills and experience, diving at the Brothers Islands is an unforgettable experience that should not be missed.
Giftun Island, located near the resort town of Hurghada, is a popular dive site that offers diverse marine life and stunning coral reefs. The island is surrounded by clear, calm waters that are perfect for beginner and intermediate divers, with a maximum depth of around 20 meters.
The dive site is home to a variety of colorful fish, including angelfish, butterflyfish, and parrotfish, as well as turtles, moray eels, and occasional reef sharks. Giftun Island is also a popular spot for snorkeling and beach activities, making it a great option for families and non-divers as well.
The Red Sea is home to a diverse array of marine creatures, many of which can't be found anywhere else in the world. Here are some of the most unique marine creatures you can encounter while scuba diving in the Red Sea:
Nudibranchs are a type of sea slug found in the Red Sea. These creatures come in a variety of colors and patterns, making them a favorite among underwater photographers.
The Napoleon wrasse is a large fish found in the Red Sea, known for its striking blue-green coloration and prominent hump on its forehead. These fish can grow up to six feet in length and are a favorite among divers due to their friendly nature.
The giant moray eel is a common sight in the Red Sea, known for its impressive size and fearsome appearance. These eels can grow up to nine feet in length and are often found hiding in coral crevices.
The hawksbill turtle is a critically endangered species found in the Red Sea. These turtles are known for their distinctive beak-like mouth and stunning shell patterns, making them a favorite among divers and snorkelers.
If you're a beginner diver planning to explore the Red Sea, here are some tips to help you make the most of your experience:
It's important to choose a dive operator that is reputable and experienced in the Red Sea. Look for operators that have good reviews and a strong safety record, and don't be afraid to ask for references or certifications.
As a beginner, it's best to start with shallow dives and gradually work your way deeper. The Red Sea has plenty of shallow dive sites that are perfect for beginners, with calm waters and plenty of marine life to see.
Buoyancy control is an important skill for scuba diving, as it allows you to hover in the water and avoid damaging the coral or disturbing the marine life. Practice your buoyancy control skills before your dive, and be sure to ask your dive instructor for tips and guidance.
Scuba diving in the Red Sea is not a race, and it's important to take your time and enjoy the experience. Don't rush your dive, and take time to appreciate the beauty and wonder of the underwater world.
Finally, it's important to respect the marine environment and do your part to protect it. Avoid touching or disturbing the coral, don't feed the fish, and take all trash and debris with you when you leave the dive site.
By following these tips, you can ensure a safe and enjoyable scuba diving experience in the Red Sea, whether you're a seasoned pro or a beginner diver.
The best time to go scuba diving in the Red Sea is between September and November, as well as between March and May. During these months, the water temperature is comfortable, and the weather is mild, making for optimal diving conditions.
To scuba dive in the Red Sea, you must be at least 12 years old and possess an open water certification or higher. Some dive sites may require additional certifications, such as advanced or nitrox, depending on the depth and currents.
Yes, the Red Sea is home to several shark species, including hammerhead, reef, and thresher sharks. However, it's important to note that sharks are typically not a threat to divers and prefer to avoid human interaction.
Yes, scuba diving in the Red Sea is generally safe, as long as proper safety measures and precautions are taken. It's important to dive with a certified and experienced dive operator, as well as to follow all diving protocols and guidelines.
You will need the standard scuba diving equipment, including a wetsuit, regulator, dive computer, fins, and mask. Depending on the dive site, you may also need additional equipment, such as a dive light, compass, or surface marker buoy.
Scuba diving in the Red Sea is an experience like no other, offering stunning underwater landscapes, diverse marine life, and warm water temperatures year-round. Whether you're a seasoned diver or just starting out, there's something for everyone in the Red Sea. So pack your bags, grab your gear, and get ready for an adventure you'll never forget.
Share:
Twitter

|
Facebook

|
Linkedin