Solomon Islands - The Isles Of Golden Beaches And Rainforest
The Solomon Islands Group were probably discovered about 5,000 years ago.
The first Europeans to visit the Islands were the Spanish with Alvaro de Mendaña naming them the Solomons. He also named the Islands of Santa Isabel, Guadalcanal and San Cristobal.
The Solomon Islands Group has an abundance of golden beaches fringed with palm trees, translucent blue waters, spectacular coral reefs and colorful marine life.
The Solomons are located south east of Papua New Guinea and only three hours by air from Australia.
The islands are covered in tropical rainforest and their steep hilly slopes are interspersed with swift flowing creeks, waterfalls and peaceful lagoons.
COPYRIGHT_JANE: Published on https://www.janeresture.com/solomons/solomon-islands/ by - on 2022-10-21T20:41:56.603Z
The people of the Solomons still practice a traditional way of life, preferring to respect the old customs and traditions, maintaining and preserving their beautiful unspoiled environment.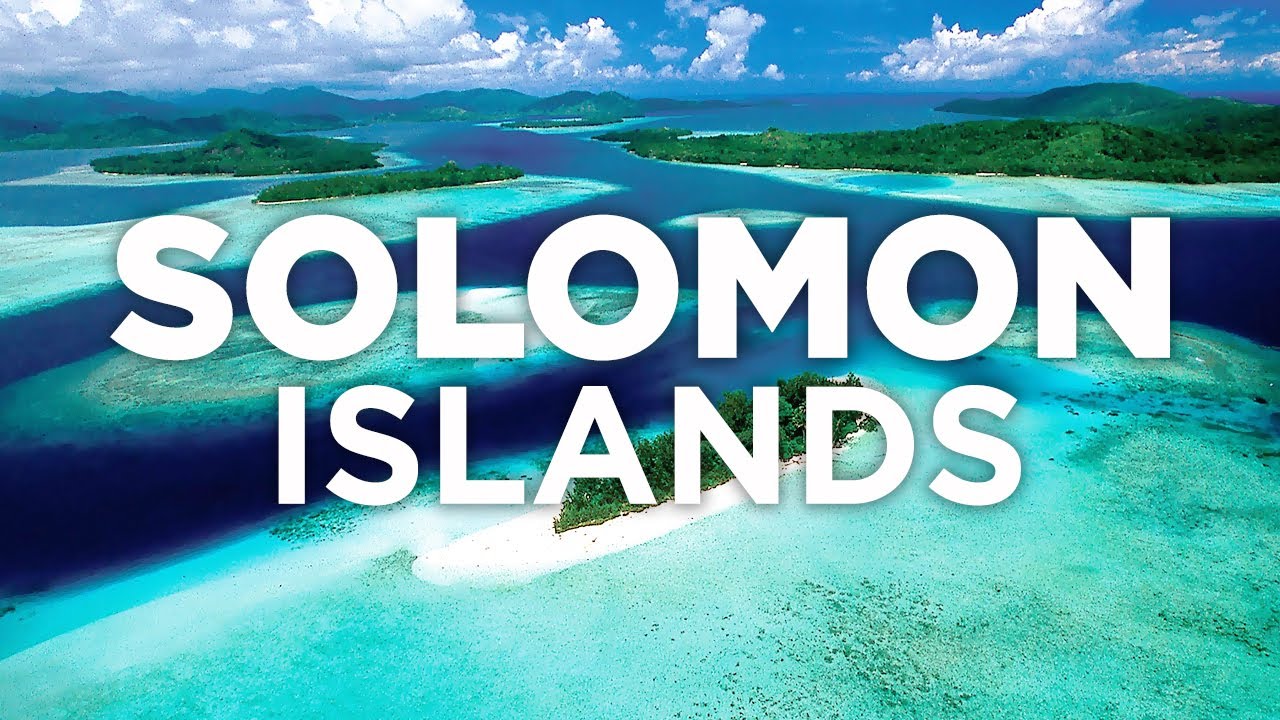 Solomon Islands Travel Guide
The Solomon Islands are made up of more than 990 islands, which together cover a land mass of 28,000 square kilometers.
The main islands are Choiseul, Guadalcanal, Santa Isabel, San Cristobal, Malaita and New Georgia.
Volcanoes with varying degrees of activity are situated on some of the larger islands, while many of the smaller islands are simply tiny atolls covered in sand and palm trees.
Honiara, the capital, was born out of war's necessities.
It's oldest architectural style, still to be observed in one or two less obvious corners of its bustling environs is the World War II military hut with its distinctive semi-circular roof.
Honiara takes its name from the native description of its site: "Naho ni ara," meaning "facing the east and south-east wind," and not even a native village preceded it in its location.
Honiara is centered on Point Cruz, which Alvaro de Mendaña named when he landed there more than four centuries ago.
He also named Guadalcanal, the island on which it is located for a town in Spain, and many of the other geographical features of the Group, which probably takes its own name from his reports of its riches.
Situated on Guadalcanal, the capital Honiara has a population of more than 30,000 and is located on a coastal stretch overlooking Iron Bottom Sound.
One of the most spectacular waterfalls in the South Pacific is Matanikau Falls, a two hour walk from Honiara.
It has many large pools for swimming and an impressive stalagmite-covered cave which is home to a vast number of swallows.
Visitors can also climb Mount Austin, passing Solomon Peace Memorial Park with its sweeping view of the Northern Coastal Plains.
Other historical sites include the Red Beach on the Coastal Plain, and the Henderson Tower.
In an easterly direction from Tenaru is the Tenaru Falls, an impressive 60-meter waterfall, and in a westerly direction from Honiara is Bonigi Beach, five kilometers west of Poha.
At the eastern end of Guadalcanal is Marau Sound a coral paradise.
Here, there are huge reefs of coral in unique and beautiful shapes which are home to a teeming array of tropical fish and fascinating sea life.
There are also giant clams and some of the world's biggest seashells.
Savo Island is a cloud-shrouded place, its waters housing the graves of at least four ships that were sunk during the Battle of Savo.
Today it is an ideal picnic spot and a diver's paradise with its sunken ships, sleepy villages and magnificent crystal waters.
The Solomon Airlines have regular services to five neighboring Pacific countries, Papua New Guinea, Brisbane and Sydney, Australia, Nadi, Fiji, Port Vila, Vanuatu and Auckland, New Zealand.
In addition, the Airline services 24 internal destinations which include Santa Cruz, Santa Ana, Auki, Rennell, Yandina, Seghe, Munda, Gizo, Choiseul Bay and Mono.
Air Niugini, Air Pacific, Air Nauru and Air Vanuatu also offer flights to Henderson International Airport, Guadalcanal, which is eight kilometers from Honiara.
There are public buses, hired cars and taxis, and you can see a lot simply by walking.
For inter-island travel, go by aircraft or boat.
Solomon Airlines flies to about twenty-three destinations throughout the country while Western Pacific Air Services operates flights to the smaller, more isolated airfields in the Solomon Islands.
The islands which comprise the Solomon Islands are practically innumerable.
A thousand and one, it is said, make up the cluster called the Russell Group and at least as many more festoon the south east shores of New Georgia, centering the whole complex of archipelagoes.
The more practical estimate lists thirteen large islands nearly enclosing a central passage which, ever since the war has been called "The Slot," which runs south east and north west between the seventh and tenth degrees of south latitude.
At the top end are Bougainville and Buka.
On the eastern side of "The Slot" are Choisel, Santa Isabel and Malaita; on the western, San Cristobal, Guadalcanal, The Russells, New Georgia, Rendova, Kolombangara, Vella Lavella, The Treasuries and The Shortlands.
In a central position lies Florida, and to the South well away from the crowd, is Rennell.
Lush tropical rainforests cover most of the Island Group.
Exotic orchids, many varieties of extra-large frangipanis, colorful bougainvillea, ferns and palms are found everywhere and butterflies are abundant.
There are more than 70 species of reptiles. A variety of trees and shrubs had been introduced along with fruits and vegetables.
In Honiara, there is a bustling Chinatown, the National Museum and Point Cruz Yacht Club. Western Province offers traditional villages, secluded beaches, superb snorkeling and scuba diving.
Food And Entertainment
Major hotels have restaurants and there are international-style restaurants in Honiara.
Hotels have beer gardens and bars and several private clubs welcome visitors. Island night barbecues are held regularly and are very popular.
Sports activities include golf, tennis, bush walking and a wide range of aquatic sports - swimming, sailing, wind surfing, water skiing, snorkeling and game fishing.
The Solomon Islands is renowned as a scuba diver's paradise with coral, shipwrecks, giant clams, tropical fish and game fish.
Visitors interested in culture, flora and fauna, can choose from a range of informal tours and visits.
These include day trips to custom sites and tambu areas, custom dancing and lagoon trips to war canoe villages. Spend time with local families and experience their everyday life.
Climb the extinct volcano or learn to paddle a dugout canoe.
Fish in aquamarine waters and sample your catch cooked in a traditional motu (stone oven).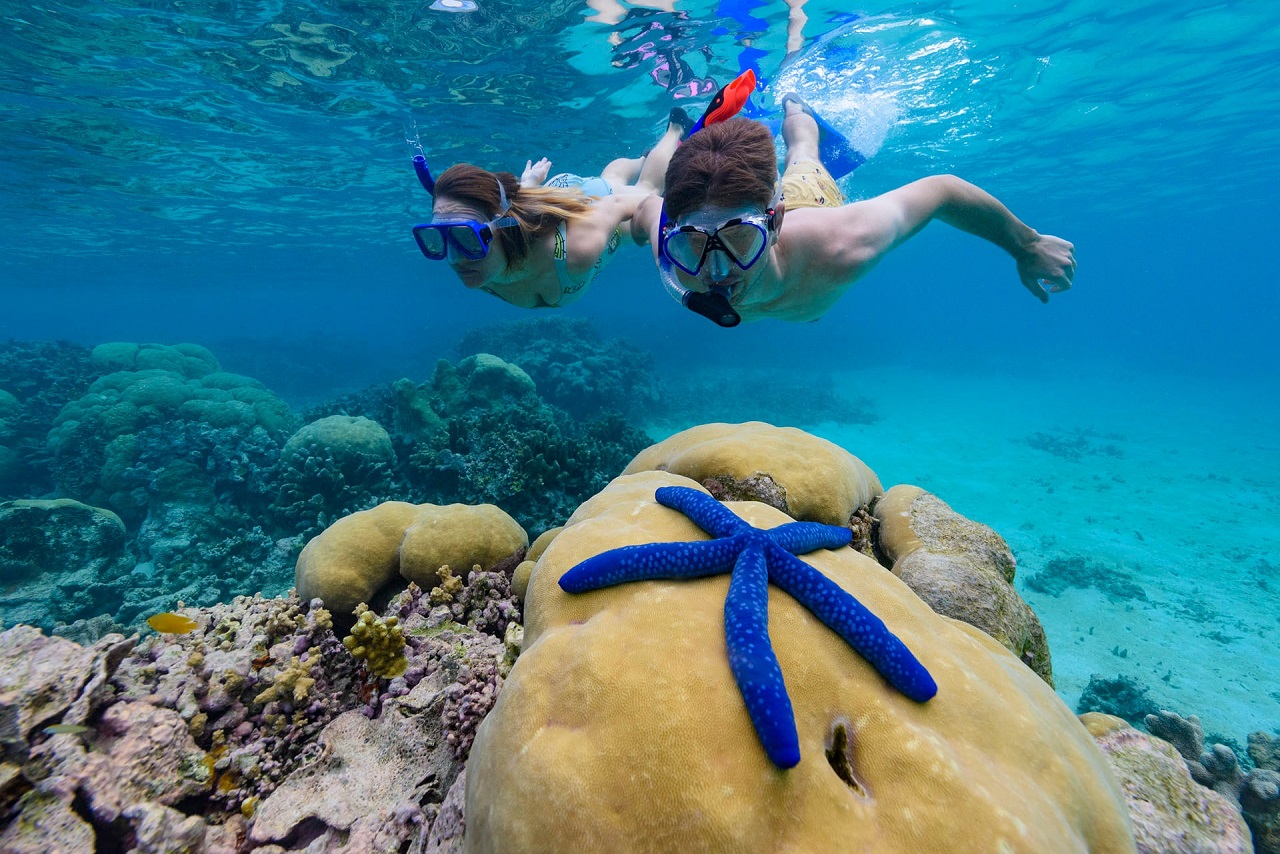 Male and female tourists at Solomon Islands snorkeling on clear waters, with a blue starfish resting on a stone
High quality craft work is available and includes ebony and wood carvings, bowls with mother of pearl inlays, shell jewelry, baskets, bags, hats and mats woven with pandanus or coconut palms.
Although the only craft shops are in Honiara, you can buy work direct from craftsmen and women in the other islands.
Daily markets are held throughout the Solomon Islands. The Central Market in the capital of Honiara is the largest and most colorful.
There are several lodging establishments operating in the Solomon Islands.
Situated just fifteen minutes from Henderson Airport and two minutes from Honiara's shopping center, it is a premier location for business travelers because of its proximity to Honiara's Government and business offices.
The hotel has a premier conference venue offering photocopy, telex, facsimile and secretarial services.
Gracing the ocean front, the Hotel has a choice of 94 guest rooms, which include deluxe rooms with sea or garden views, three luxurious suites, and standard rooms or with air-conditioning, IDD telephones, television with in-house video and satellite TV systems, fridge, tea and coffee-making facilities, plus international service to match from the staff.
From the hotel, it is possible to arrange flights to more than 20 of the outer islands or to join the "off the beaten track" travelers and venture into the wild of the country, dive further afield to coral reefs and war wrecks, observe the diversity of Melanesian culture, fish and sightsee among the battlegrounds of the Pacific.
Smiling faces and warm island hospitality are a distinctive trait of the Honiara Hotel, which is located in tropical surroundings only a few minutes from the city center.
With the addition of a new wing perched on a hilltop, the hotel has increased its guest accommodation and set an even higher standard with rooms that feature large balconies overlooking Honiara and the historic Iron Bottom Sound.
All accommodation, except for the budget rooms, features air-conditioning, satellite TV, in-house video, radio, IDD telephones, private bathroom, fridge and tea and coffee-making facilities.
The budget accommodation offers fully-screened rooms with ceiling fans, wash basin and share bathroom facilities.
The hotel has an air-conditioned French a la carte restaurant, the Poolside Coffee Shop Bar, souvenir shop, boutique and dive shop.
Outdoor activities center around the swimming pool, squash courts and floodlit tennis court.
The friendly receptionists can also help with inquiries about diving and local tours.
Guests are treated royally with colorful dancers from the Solomon and Gilbert Islands performing a variety of traditional dances around the pool area every Wednesday (BBQ night) and Friday (Island Feast night).
The new King Solomon Hotel is impressive in appearance, but doesn't compromise on comfort or service and provides a wonderful beginning to your adventure in the Solomon Islands.
Every room is charming, every detail of the hotel unique - from the cable car transportation, to the tropical landscaped gardens and waterfall.
When you stay at the King Solomon, not only do you get excellent service and facilities, but you also find Solomon Islands culture and tradition blending in with the comforts of a new hotel.
The two magnificent "Leaf Haus," which lodge the reception area, gift and dive shop, bar and restaurant, are traditionally built, with high beams and thatched roofs.
The friendly warmth and hospitality of the Solomon Islands is reflected in the hotel staff who are dedicated to making your vacation both enjoyable and memorable.
Named after its historic location, the Iron Bottom Sound Hotel is the perfect place to let go of the hustle and bustle of the world and let the peace of the tropics seep into your pores.
This is where the U.S. Marines landed during World War II and where some 42 warships were sunk.
If history interests you, the Solomon Islands War Museum is just one and a half hours from the Hotel.
The first stage of the luxurious Iron Bottom Sound Hotel has 42 rooms all of which have beautiful sweeping views along the beachfront on Mendana Avenue, ten minutes from the heart of the capital, Honiara and five minutes from the Post Office, Bank and other facilities.
Within the next few years, stage two will mean an extra 42 rooms are added to this beautiful beachside resort complex.
To experience the true ambience of the Solomon Islands, one must go to Gizo.
For those in search of a quiet escape, and island adventure or a diving dream, a new taste of natural paradise awaits. Gizo is the ideal place to enjoy a "get away from it all" holiday.
Situated on the waterfront of Gizo, the Gizo Explorer Hotel offers comfortable accommodation, poolside relaxation, and access to some of the most beautiful sights of the Solomon Islands.
The split-level open air "Leaf Haus" restaurant and bar offers a wide variety of fresh local cuisine in the relaxed downstairs restaurants, and fresh ocean breezes and cool drinks in the upstairs bar.
Local entertainment is a regular feature.
Three male teenagers in Solomon Islands, with the middle one's arms placed over the shoulders of the other two
The Islanders are smiling, warm friendly people, mostly Melanesians (90 percent), with some Polynesians, Gilbertese (I-Kiribati), Europeans and Asians.
There is no segregation between races and English is the official language, though there are more than 120 indigenous languages, including pidgin English, spoken throughout the Island Group.
Most of the indigenous Melanesians are extremely dark with fair, tawny hair; but sea-wandering Polynesians have settled in many of the outlying areas: Rennell, Bellona, Tikopia, Sikaiana, Ongtong Java, Taumako and Anuta.
The Solomon Islands provides a unique experience for visitors who enjoy new sights and sounds and places to explore.
The Solomon Islanders' way of life has remained unchanged for generations. They invite you to leave behind your twenty-first century life style and become part of them.
Life in the island's Western Province, for example, is unhurried, simple and welcoming. There is always something different to do.
"No Hurry" - the people from the Western Province would often say.
Come and enjoy the Solomon Islands. You may want to stay forever . . . some do!
Share:
Twitter

|
Facebook

|
Linkedin